*This post may contain affiliate links. As an Amazon Associate we earn from qualifying purchases.
The Aukey Cortex 4K VR headset aims to compete with the big boys. A 4K VR headset for PC, being the first of its kind, aims to compete with the likes of the Oculus Rift and the HTC Vive. While the name Aukey may not ring any bells, the idea of a 4K VR headset for PC gaming and 3D movies sounds amazing. But is it too ambitious? This review will dive into the specifics of this new headset.
Aukey Cortex 4K VR Headset: Specs
Aukey Cortex 4K VR Headset Specs
Headset Type
PC VR Headset
Resolution
4K Ultra HD
Field of View
110°
Sensors
Dual 1000 Hz gyroscope
Controls
Power and menu buttons, no controls
Platform
PC, SteamVR, Oculus, other
Amazon Rating (out of 5)
2
Our Rating (out of 5)
3.3
The device itself connects via HDMI to your PC and gets power from a USB port. The software is only Windows compatible, but the device could be used in a non-VR mode as a display on any operating system.The Aukey Cortex is an interesting and ambitious VR headset, which is the first of its kind to support 4K resolution. It has a powerful display and a proprietary app store. It's also compatible with Oculus Rift games. It's fairly lightweight and comfortable and comes with option over-ear headphones that plug into two audio jacks on the unit.
Pros & Cons
Pros
[su_list icon="icon: plus-circle" icon_color="#23a006″]
Pixels not visible, 4K is a big help in this department.
The fit is good, and it isn't too heavy.
It looks premium.
[/su_list]
Cons
[su_list icon="icon: minus-circle" icon_color="#a00e06″]
The software is horrible.
There is a large degree of lag when gaming.
The headphones don't have the greatest audio quality.
The gyroscopes have a great deal of input lag.
There isn't really a lot of 4K content available yet, and most games will be unplayable at 4K VR.
There is no focus adjustment.
[/su_list]
Aukey Cortex 4K VR Headset: Design & Requirements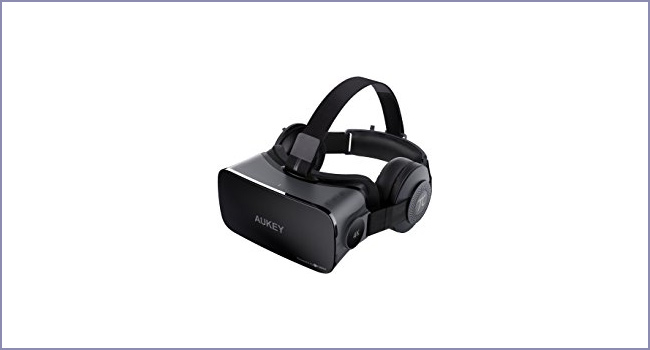 [su_button url="https://www.amazon.com/Headset-Virtual-Reality-Head-Mounted-Display-Earphones/dp/B06WRNYP9Y/?tag=probestvr.com-20″ target="blank" style="flat" background="#f40616″ size="6″ center="yes" radius="0″ rel="nofollow"]Check Prices[/su_button]
The device definitely feels premium. It's well put together and has a sleek look about it. The padding feels good, and the device is about as heavy as the other big-name headsets out there. The headphones are comfortable; it's just too bad they don't sound better. The plastic nosepiece may be a problem for some if it's resting directly on the bridge of your nose. Some customers have complained about it.
You'll need a Windows PC to get the most out of this headset, as the drivers are only the written for Windows. The drivers, however, are horrible. There are issues getting them installed that many people have faced, and they tend to be a little glitchy. Hopefully, updates will rectify this.
Aukey Cortex 4K VR Headset: Controls & Display
There are a power button and menu buttons across the top. No other controls are provided with this headset. It's intended that you will use a mouse and keyboard or buy a separate controller for use with your PC games.
The display itself is fine. The 4K 60 fps display looks good, and at last the problem of seeing the pixels too clearly is resolved. However, the image quality itself suffers a bit. Near the edges of the device, the image quality appears to drop, and it also is a bit darker than some of the competition. It's also worth noting that getting 4K VR in games is going to be nearly impossible for modern titles, as rendering one single 4K image at a reasonable framerate is trouble enough for the beefiest GPUs on the market. It may be that this device is a little ahead of its time.
Aukey Cortex 4K VR Headset: Setup
Setup is a nightmare. The software is tricky to install and requires you to disable your antivirus. It sometimes also doesn't like to recognize the device, which is really annoying and may cause you to try multiple times to get it working.
Once you do get it up and running though, you'll be treated to more problems. The software experiences crashes, and it doesn't really have much to offer anyway since they mostly just tell you to use the Oculus store for your VR games.
The Aukey Cortex connects to PC with an HDMI cable.
Aukey Cortex 4K VR Headset: User Experience
A customer was not impressed. He mentioned a low viewing angle and poor image quality. He said the fit and sound were fine, though.
Another customer gave a scathing review. He lashed out at the horrible software installation and crashes while running. He also mentioned that it's not adjustable for myopia, a strange oversight. It also has a limited FOV, he said.
In conclusion, the input lag on the device made it nearly unusable for gaming, but it might be just fine for watching movies. They also noted the lack of 4K VR content on the market. It is probably ahead of its time.
Bottom Line
Overall, the Aukey Cortex 4K VR headset was probably a little ahead of its time. In trying to pack in that buzzword "4K," they lost out on too many of the other quality control aspects. The image quality and brightness are sub-par. The software is barely functional. The build could be a little better. It's also worth mentioning that it's extremely hard to play modern games in 4K VR, if not impossible in many cases. It's very likely that there's a good reason why Oculus and HTC decided not to use 4K panels. The excess pixel density and the buzzword just aren't worth it, at least not yet.