*This post may contain affiliate links. As an Amazon Associate we earn from qualifying purchases.
In the near future, consumer-grade VR technology will be widespread and rapidly-advancing, but for now, it's a burgeoning industry bottlenecked by affordability. It's an era-defining technology though it still currently is in the seedling phase. Luckily, VR is readily available to most of us with a very low buy-in, seeing as many modern smartphones are capable of handling virtual reality with just a few accessories. Since the technology is in its infancy, the market for mobile VR is somewhat sparse and inconsistent. To simplify a potentially laborious search check out this list of the top ten best Android VR games.
Top 5 Best Android VR Games
| Product Name | Type of Game | Amazon Rating | Our Rating |
| --- | --- | --- | --- |
| Goosebumps Night of Scares | Horror | 4.5/5 stars | 4.5/5 stars |
| Fractal Combat X | Arcade – Combat | 3.7/5 stars | 4/5 stars |
| Roller Coaster Crazy Tour VR | Roller Coaster | 2.8/5 stars | 3.5/5 stars |
| Ghost GO! VR | Horror | 4/5 stars | 3.5/5 stars |
| SmashWars | Drone Racing | 4.3/5 stars | 3/5 stars |
10. VR Horror In The Forest
The platform of VR is perfect for the atmospheric elements necessary for a perfect horror game. VR Horror In The Forest takes full advantage of that by dropping the character in one of three terrifying levels. The user can look around as they explore the dark levels, torch in hand to cut through the darkness. Inevitably, as the title alludes, various horrors lurk in the shadows – ready to pounce when you least expect. Though simplistic in design, for the price (free) it can't be beaten.
9. VR Terror 360
Another game fully exploiting the horror aspects of virtual reality, VR Terror 360
features an onslaught of ghosts, demons, zombies, and other paranormal creatures. Utilizing youtube videos, this app acts as a player for horror VR 360 videos that are available on the streaming site. Each video allows you explore your environment as the scene unfolds around you.
8. Spaceout.VR
A unique entry among the best Android VR games is the aptly named Spaceout.VR by Spaceout.VR, Inc. This fully immersive 3d music visualizer turns your music into a kaleidoscopic, sound-responsive, fantastical world. Play your own albums, playlists, microphone recordings and even Soundcloud. Your goal is to collect Beatcoinz while being catapulted onto a roller coaster of psychedelic music powered visuals! And all of this for absolutely free!
7. VR Space Mission: Moon Explorer
Explore space without leaving the comfort of your own house. With full VR support, VR Space Mission: Moon Explorer allows you to traverse the surface of the moon in all its glory. This space exploration simulator provides a first-hand experience of walking on those dusty cliffs of the big rock in the sky. Though the graphics may not be photorealistic, they don't demand a heavy load on the average mobile phone. Using authentic sounds from the first landing on the Moon and models sourced directly from NASA, this immersive VR adventure is free to download.
Recommended Read: Best VR Glasses for Android
6. Fulldive VR – Virtual Reality
Number six on the list of best Android VR games goes to something that isn't quite a game, but definitely deserves an entry on this list. Fulldive VR is a 100% user generated virtual reality (VR) navigation platform. Use VR to view the internet, watch youtube videos, take and view 360 VR pictures, stream media, and even download other VR apps and games within the app itself. With this versatile and intricate app, it's absurd to pass it up for free.
5. SmashWars: Drone Racing
SmashWars: Drone Racing features an endless arcade of racing, smashing, and surfing. "Smash Till You Crash" is the name of the game, with the goal to bash and thrash your way through infinite colorful levels and build up as high a score as you can. With fourteen drones that you can unlock and upgrade, four levels of difficulty, and steady ongoing development – you'll never get bored. And when it's absolutely free, there's no reason not to download it!
4. Ghost GO! VR – Supernatural Activity Radar
Another horror game breaking into the top 4 best Android VR games, Ghost GO! VR – Supernatural Activity Radar puts the user in the seat of a real life ghostbuster. Armed with a powerful ghost scanner that reveals ghosts and supernatural phenomena all around, you are set to uncover the hidden horrors lurking within the shadows of your house. Allow the horrifying VR experience to plunge you into a new world without paying a single cent.
3. Roller Coaster Crazy Tour VR
Roller Coaster Crazy Tour VR by Idealogix Solutions is an immersive tour of a city that never ends. Through a first-person perspective, the roller coaster takes you on a wild ride through a stylistic and mesmerizing city populated with all sorts of diverse characters. This thrilling ride features hairpin turns at heart-racing speeds, the highest peaks leading straight into the lowest drops, and all sorts of surprises out of nowhere. Sometimes it gets so immersive that you can believe you're on a real roller coaster for a second! Roller Coaster Crazy Tour VR is available on Amazon for free.
2. Fractal Combat X
[su_button url="https://smile.amazon.com/NEWTYPE-K-K-Fractal-Combat-X/dp/B00HB8QOV8/?tag=probestvr09-20″ target="blank" style="flat" background="#f40616″ size="6″ center="yes" radius="0″ rel="nofollow"]Check Prices[/su_button]
Are you looking for a fast-paced game full of nonstop action and brilliant shifting colors? Fractal Combat X is an arcade-style flight combat game with top-notch 3D graphics. Every level consists of gorgeous fractal landscapes and brilliant otherworldly backgrounds far below the rapid air battles. It's got plenty of play time with dozens of missions (and more that are still being developed). If you're feeling competitive, take a shot at the leaderboards and or have your hand at the achievements. The pumping electronic soundtrack pushes players to the limit as they fly through the skies amid bullets and explosions. You can get one of the all-time best Android VR games for only $1.99.
1. Goosebumps Night of Scares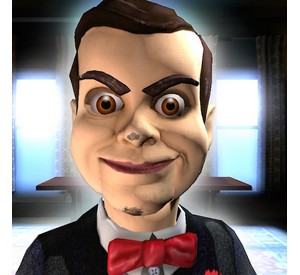 [su_button url="https://www.amazon.com/Cosmic-Forces-Goosebumps-Night-Scares/dp/B016CPDR1A/?tag=probestvr.com-20″ target="blank" style="flat" background="#f40616″ size="6″ center="yes" radius="0″ rel="nofollow"]Check Prices[/su_button]
One of the top selling, scariest, and all-around best Android VR games on the list is the official Goosebumps Night of Scares from Cosmic Forces. It's the first-ever Goosebumps game for smartphones and tablets and is completely VR-compatible. This is a treasure trove for Goosebumps fans, with a full ensemble cast of all of your favorite characters from the books, shows, and movies!
Your terrifying mission is to navigate R.L. Stine's house to find each of the pages of the book Night Of The Living Dummy. Filled with jump scared around every corner, you have to use this book to stop Slappy the Dummy and his hordes of evil gnomes, werewolves and more from unleashing havoc… or meet your doom! Featuring Jack Black as the voice of R.L. Stine, this top quality game definitely tops this list and at $2.99 it's completely worth it!
Conclusion
Though VR is rather limited in the scope of the mobile platform, with advancements in smartphone applications as well as the steady developments in VR technology only assure that VR games will gain a stronger foothold in time. There's no doubt that in short time, these best Android VR games will be superseded by more advanced, immersive, and versatile games.