*This post may contain affiliate links. As an Amazon Associate we earn from qualifying purchases.
The Canbor VR headset tries to fill a gap that's somewhere between the most expensive premium models and the various low-end headsets based on the Google Cardboard platform. While it's certainly a premium unit that's geared toward both gamers and aficionados of 3D home cinema, Canbor's goggles are offered at a decent price and seem relatively sturdy.
The company even claims that it supports 3D panoramic roaming. The extra padding is certainly impressive as well. We tried them out to see if they were every bit as good as the big boys they were going up against in the industry.
Canbor VR Headset: Specs
| | |
| --- | --- |
| Headset Type | 3D VR Headset |
| Resolution | 720 x 1080 |
| Field of View | 100° |
| Sensors | Rotational head sensors |
| Controls | Focal adjustments on top, video controls on remote |
| Platform | Android and iOS Phones |
| Amazon Rating (out of 5) | 3.5 |
| Our Rating (out of 5) | 3.5 |
Despite being less expensive than some of the industry's competitors, the Canbor VR glasses use patented nanometer-based aspheric lenses made under high-precision conditions. They feature anti-radiation coatings, which should help assuage the concerns of those who worry about ocular damage. The lenses also feature coatings to cut down on the amount of blue light. This, in its turn, cuts down on eye fatigue and make images much clearer.
Blue spectrum light from smartphones can become extremely irritating, which makes this a very nice feature to have. It's not something that you'll notice all the time, but anyone who watches longer movies through the glasses will be sure to appreciate it. Extremely light components keep the weight down in spite of all these features, but it still avoids feeling cheap the way some headsets do.
Canbor VR Headset Pros & Cons
Pros
[su_list icon="icon: plus-circle" icon_color="#23a006″]
Meets a price point that's somewhere between the premium and inexpensive models
Features advanced lenses that cut down on eye fatigue
Only model in this class that uses all environmentally-friendly materials
Offers detachable front cover to cool your phone
Comes complete with remote
[/su_list]
Cons
[su_list icon="icon: plus-circle" icon_color="#23a006″]
Poor compatibility with many Apple iOS devices
Included remote doesn't work with most iOS devices either
Some users report standard 4:3 aspect ratio images
[/su_list]
Canbor VR Headset: Design & Requirements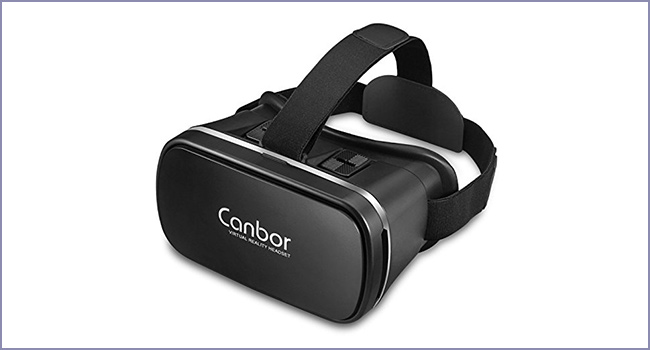 [su_button url="https://www.amazon.com/Headset-Canbor-Goggles-Virtual-Smartphones/dp/B01N5T8FBN/?tag=probestvr.com-20″ target="blank" style="flat" background="#f40616″ size="6″ center="yes" radius="0″ rel="nofollow"]Check Prices[/su_button]
A few unusual design decisions make for a unique experience when using Canbor's goggles. The designers left a small hole in the side of the goggles so that you could charge your phone while viewing it, but you should make sure that your cord is sufficiently long enough before trying this.
Cloth padding accompanies the rim of the goggles, and they coupled this with foam and leather padding along the straps. This makes for a very comfortable fit for most people. While it technically supports iPhone 6, 6s and 6+ devices, the goggles struggle with support for Apple's hardware. This is understandable seeing as Apple's system is completely closed, but it certainly will cause problems for those hoping to sync their new headset with their iPhone.
Even though the Canbor headset isn't very heavy, the manufacturer still equipped it with fairly strong straps. Most users will find it easy to adjust these straps and fit it to their head comfortably. This design makes it comfortable to wear. The system requirements list is every bit as easy to navigate, and the Canbor goggles should work with nearly all 4–6-inch Android phones. This includes the Samsung Galaxy Note series.
Canbor VR Headset: Controls & Display
Two controls on the top of the goggles adjust pupil distance and focal distance, so it's easy to slide these into place to get a good image. The controls take the form of sliders instead of the more common dials. This can take users a little to accustom with, especially if they are already comfortable with some other device.
They include a standard Bluetooth remote with every pair of goggles, which can function as a serviceable game controller when paired with an Android phone. It can only control video playback and volume on iOS devices, however, because of Apple's hardware patents.
Canbor VR Headset: Setup
Canbor offers some suggestions for which apps to use first to adjust your new VR headset. After adjusting the backhead straps, you can maneuver those on the side a bit to reduce pressure on your nose bridge. You can open the front of the goggles if it seems that your phone is getting hot. But, for safety's sake, it's usually best to leave this closed.
You won't have to play around with it too much in most cases, but some users have reported that their screen size only lets them view videos at a 4:3 aspect ratio that reminds them of watching 3D television sets. If this happens, then you may wish to make sure your phone is the right size.
Canbor VR Headset: User Experience
Most users agree upon the fact that the Canbor VR headset works well. Most of them appreciate its design and the easiness with which they can set the VR headset to work. The VR immersion, although not as high as that of an Oculus Rift or HTC Vive, is good enough to enjoy a VR game of VR videos on the smartphone, most users state.
However, there were users who were neither impressed nor satisfied with the headset. Reasons are either incompatibility with the mobile smartphone or the fact that it does not fit their phones. Most of the negative reviews were not, however, backed by arguments. So it is up to each and every one user.
Bottom Line
The Canbor 3D goggles fill a niche that few other headsets fit into. They're good for gamers as well as those who want to experience IMAX-like movies in their own home, but they're not going to cost as much as most other crossover products.
They suffer from a few compatibility problems, but most users of Android phones won't have to worry about that since they regard only Apple's hardware patents. Make sure to sign up for our newsletter to read more of our Pro Best VR reviews.