*This post may contain affiliate links. As an Amazon Associate we earn from qualifying purchases.
The Deepoon E2 VR glasses are designed as an alternative to the rather expensive Oculus Rift and HTC Vive for the PC. They boast a lot to love, with a 75 Hz refresh rate, AMOLED display with blue light filtration, and anti-distortion technology. But of course, with a cheaper product must come some level of compromise, and compromise this one does in certain areas. For one, the current software doesn't support Windows 10, which is a huge shame.
Deepoon E2 VR Glasses: Specs
Deepoon E2 VR Glasses Specs
Headset Type
PC VR headset
Resolution
1080p
Field of View
120°
Sensors
Accelerometer, Gyroscope, Magnetometer
Controls
None
Platform
Windows 7, 8
Amazon Rating (out of 5)
2.8
Our Rating (out of 5)
4
Compared to the bigger names, the Deepoon E2 suffers in its head tracking and refresh rate primarily, both of which are not quite up to the level of the big-name products. But that's not to say this is a bad product. In fact, it may be a great cheap alternative for those looking to try VR out on a budget. The Andoer Deepoon E2 tries to be one of the big boys with a lower price tag. It boasts everything that makes it competitive: 1080p resolution, head tracking, blue light filtration, high-quality Samsung display, lenses made in Japan, and more. The build is premium and boasts parts made in Sweden, which is nice to see for a Chinese clone.
Pros & Cons
Pros
[su_list icon="icon: plus-circle" icon_color="#23a006″]
The price is right.
Display is high quality, and they certainly didn't cheap out.
The build quality is rather high.
The response time of the device is very good overall.
[/su_list]
Cons
[su_list icon="icon: minus-circle" icon_color="#a00e06″]
The head tracking isn't as precise as some of the competition.
Display resolution is a little lower than others.
The refresh rate is lower than the competition.
Some have complained of headaches.
The comfort level could use a boost.
[/su_list]
Deepoon E2 VR Glasses: Design & Requirements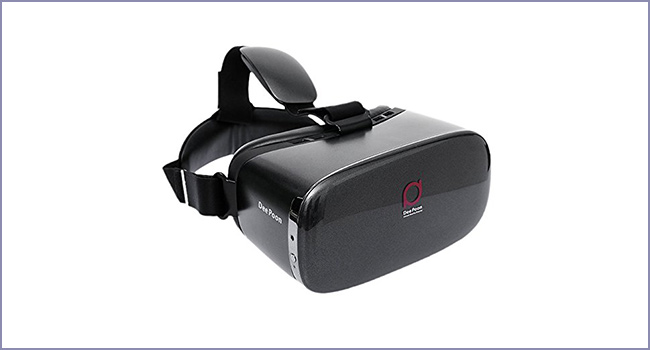 [su_button url="https://www.amazon.com/Andoer-Virtual-Reality-Head-Mounted-Computer/dp/B01COZVMVE/?tag=probestvr.com-20″ target="blank" style="flat" background="#f40616″ size="6″ center="yes" radius="0″ rel="nofollow"]Check Prices[/su_button]
The Deepoon E2 looks pretty premium. When you take it out of the box, you'll notice its amazing build quality right away. It looks and feels good on the outside. On the inside is where it suffers a little. It isn't the most comfortable headset to wear. The padding is a little lacking, and the device is a little heavy as well. For long viewing sessions, you may find yourself needing a break.
For this device, you need a Windows 7 or 8 PC to get the full use out of it, as the drivers only work on those OS. The unfortunate reality is that there's still no Windows 10 support, which is really strange seeing as Windows 10 has been out for some time now. It's an area where they really dropped the ball and probably alienated a lot of people.
Their driver software comes with a built-in app store of sorts with all sorts of games and videos to try out. You can also use the Oculus store.
Deepoon E2 VR Glasses: Controls & Display
The Deepoon E2 has no controls on the device itself. It does, however, have head tracking built in. While it isn't as precise or as smooth as some of the competition, it does get the job done. For those who don't use it anyway, you'll have no problems of course.
The display is a high-quality Samsung 1080p AMOLED panel, with very bright and vibrant colors. The display is backed by a Japanese-made lens, which is high quality and pristine. Some have complained about some image blurring near the edges and a lower-than-advertised FOV, but mostly people seem to think the display is of a good quality.
Deepoon E2 VR Glasses: Setup
Setup pretty much involves taking it out of the box and plugging it into your computer using an HDMI cable. Connect the power via the provided USB cable. From there, you need to install the drivers from their website or via the provided media. Remember, they will only install on Windows 7 or 8 systems.
Once you're up and running, you should have access to Deepoon's software, Deepoon Assistant, which contains a lot of content to try out your new device. There are some issues with the software, occasional glitches and the like, but mostly it works fine.
Deepoon E2 VR Glasses: User Experience
On user was not satisfied with his purchase. He mentioned image blurring and a need for calibration as annoyances. He also mentioned that the device needs more padding and is very uncomfortable, particularly around the nose area, where they have neglected to provide padding.
Another user was very satisfied. He said that it's heavy but not uncomfortable. He also praised the device for its FOV and overall experience for the price, which is lower than the competition.
A third user mentioned in his review that at half the cost of an Oculus Rift, you can get a device that stands on almost equal ground. He thinks these VR glasses won't disappoint you.
Bottom Line
If you don't have the extra 300 or 400 dollars to spend on a Rift or Vive, the Deepoon E2 will get the job done. While its resolution, refresh rate, image quality, and head tracking fall a little short, it's still a fine product to give you a start in the world of PC VR gaming. Just make sure you pick up a controller, and you're ready to go. You may need to be a little careful about the nosepiece though, as there's no padding and it might start to feel a little uncomfortable during those long gaming sessions.