*This post may contain affiliate links. As an Amazon Associate we earn from qualifying purchases.
The Dlodlo VR Glasses are fitted into one of the few VR headsets that deliver on their promise of full immersion. The 360° head-tracking system creates a genuine virtual reality experience, and Dlodlo's engineers coupled this with a 120° field of view to provide excellent video.
The company claims that the goggles support all traditional video source formats. They even said that video streams broadcast in different directions shouldn't trip the glasses up at all. We were a bit skeptical of some of these promises, so we decided to try out the glasses for ourselves.
Dlodlo VR Glasses: Specs
Dlodlo VR Glasses Specs
Headset Type
3D VR Headset
Resolution
720 x 1080
Field of View
120°
Sensors
9-axis motion sensor feeding 360° head tracker, proximity sensor
Controls
Trackpad and dial
Platform
Android
Amazon Rating (out of 5)
2.5
Our Rating (out of 5)
2.9
With a 1000Hz refresh rate and a latency that's lower than 10ms, the sampling frequency is so high that you might actually think that you're in some other place. Extra support for external video and audio terminal equipment is a nice added feature. But, most probably, one that few users will probably make any use of.
Several screen modes are offered, which include settings to make natural outdoor areas feel more like outdoor areas. Some users feel this offers them an opportunity to feel like they're really taking a virtual vacation. While it's never a good idea to use VR goggles for an extended period, you shouldn't develop any nausea even if you have had some sort of virtual adventure that took longer than you thought it might.
Dlodlo VR Glasses Pros & Cons
Pros
[su_list icon="icon: plus-circle" icon_color="#23a006″]
USB connectors are more reliable than Bluetooth wireless ones
Sensor network is state-of-the-art
Sturdy construction prevents physical damage
Unique control scheme equally pleases both gamers and 3D movie fans
Compatible with a number of different mobile devices
[/su_list]
Cons
[su_list icon="icon: minus-circle" icon_color="#a00e06″]
Lack of IPD adjustment prevents some users for merging the two images
Not compatible with certain types of Apple products
Poorly worded documentation forces users to figure out quite a bit on their own
[/su_list]
Dlodlo VR Glasses: Design & Requirements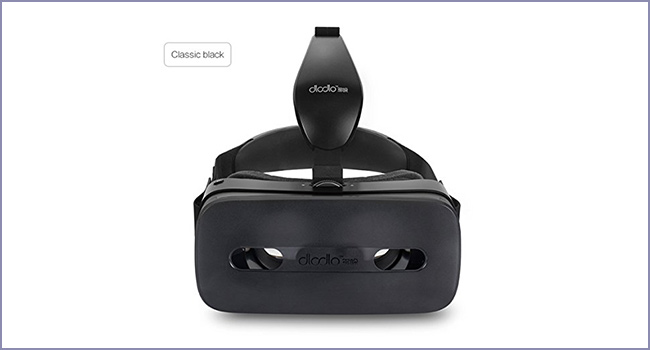 [su_button url="https://www.amazon.com/Dlodlo-Virtual-Reality-Headset-Tracking/dp/B01N9HHP2I/?tag=probestvr.com-20″ target="blank" style="flat" background="#f40616″ size="6″ center="yes" radius="0″ rel="nofollow"]Check Prices[/su_button]
These goggles use two standard micro-USB connectors to provide power as well as data transmission to and from a compatible mobile device. They're not merely passive nor do they require Bluetooth. The system also uses a 9-axis sensor coded with a preprogrammed algorithm to receive head motion input.
The 9-axis sensors help to prevent motion sickness while supplying once of the more realistic VR experiences for a pair of goggles that can meet this kind of a price point. The extremely high refresh rate adds to this experience as well, making you feel like you're really living the action. So check current pricing and offers for the Dlodlo VR glasses.
Dlodlo VR Glasses: Controls & Display
A central dial controls the focusing shaft, which allows you to adjust the focus up to around 700° for those who need corrective lenses. Few people need this amount of focusing power, though, and a few quick turns are sufficient to bring the image into focus.
An included trackpad provides app control that works just like those on a standard laptop or notebook computer. Any app that accepts input via a mouse cursor shouldn't work any differently with the Dlodlo's trackpad. This makes it work just as well for playing games as it does for playing movies.
Dlodlo VR Glasses: Setup
Since modern Android phones use a Micro USB jack as a charge port, you should have no problem plugging the adapter into your phone. Positioning the phone into the docking bay shouldn't require very much pressure. Once you have it in place and position the goggles over your eyes, the Dlodlo glasses' lenses should automatically position themselves based on where it detects your pupils. If you're having some difficulty, then you might wish to maneuver the strap. This may force the automatic IPD adjustment system to properly detect where your eyes are.
Dlodlo VR Glasses: User Experience
The touchpad controls and sensor input put the Dlodlo glasses into a class of their own. Nonetheless, one critical flaw takes them out of it. The fact that these glasses lack any sort of IPD adjustment takes away from the control scheme is so easy to use.
While the pictures are sharp and seldom produce ghost images, many users complain that they can't merge the two sides together. This will ruin the effect for any user who has this problem. Users who don't have these problems often state that the sturdiness of these goggles in comparison to most other models is impressive.
Bottom Line
It turns out that many of the boldest claims about the Dlodlo glasses are actually true. They support all IMAX formats in all directions, and the high-grade optical resin lenses minimize motion sickness. The glasses provide an impressively high pixel depth in spite of the 120° field of view. However, many users have problems with the automatic IPD correction system. This translates into them being unable to merge images together. So playing around with them for a few moments before watching a video could make all the difference.
Let us know what your thoughts or questions on the Dlodlo VR headset are and we'll clarify everything that needs clarification. And make sure to subscribe to our newsletter for more Pro Best VR reviews.