*This post may contain affiliate links. As an Amazon Associate we earn from qualifying purchases.
While it looks like a regular budget VR headset, the Eyelogy virtual reality headset has some interesting features that set it completely apart from the competition. It features a truly panoramic experience that's customizable through the use of onboard dials that do more than merely move the lenses.
Unlike a vast majority of VR headsets, Eyelogy certifies their equipment for use while wearing prescription glasses. We were curious about these kinds of claims, so we took a closer look at how users react to the hardware and what kind of specifications this device actually has.
Eyelogy Virtual Reality Headset: Specs
| | |
| --- | --- |
| Headset Type | Passive Panoramic VR Device |
| Resolution | Dependent on Phone |
| Field of View | 100° |
| Sensors | None |
| Controls | 55-68mm Lens Distance Dial |
| Platform | Android and iOS Phones |
| Amazon Rating (out of 5) | 4 |
| Our Rating (out of 5) | 3.9 |
Both lenses are made from the same lightweight material, but they're shaped slightly differently in order to provide an extremely clear picture and enhanced lighting. There's no backlight, so the lenses have to reflect all the light from your smartphone.
While the system is designed for use with prescription glasses, the jury is still out on whether this is a good idea. You can usually adjust the image to your eyes without the need for glasses, and some users are concerned that a pair of VR goggles worn over regular eyeglasses can bend their frames.
Pros & Cons
Pros:
[su_list icon="icon: plus-circle" icon_color="#23a006″]
Only weighs around 12 oz. and shouldn't slide down face
Strap feels comfortable for a majority of users
Special lens shape provides an enhanced image when used with most phones
Resolution matches that of your phone, which is great for those with full-sized units
[/su_list]
Cons:
[su_list icon="icon: minus-circle" icon_color="#a00e06″]
Passive design doesn't let you use the phone while it's in the helmet
While one can use this VR headset with prescription eyeglasses, this may actually be ill-advised
Some users report a letterbox-like appearance when using the headset with some phones
[/su_list]
Eyelogy Virtual Reality Headset: Design & Requirements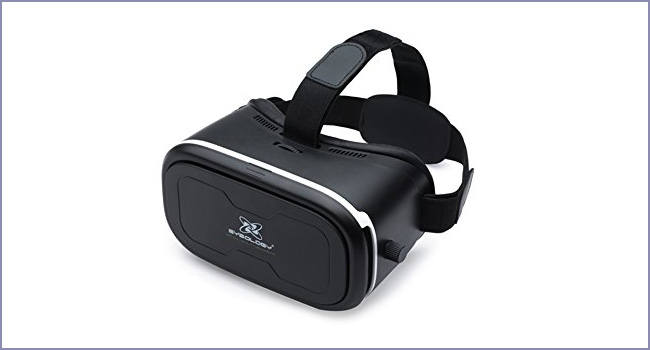 [su_button url="https://www.amazon.com/EYEOLOGY-VIRTUAL-REALITY-CLARITY-ADJUSTABLE/dp/B01M0VJ2IU/?tag=probestvr.com-20″ target="blank" style="flat" background="#f40616″ size="6″ center="yes" radius="0″ rel="nofollow"]Check Prices[/su_button]
The company says that the device should support most smartphones with sizes from around 4-6 inches. However, they actually took the time to test it with several mobile devices from different ecosystems. They reported full compatibility with the S5-S7 and Note 4-6 models from Samsung. Also, they tested it on the iPhone 5, 6, 6s+ and 7 from Apple. This should support an array of high-end users.
This is a tad ironic, considering that Eyelogy markets their products to beginners. You'll be able to get it to work with most phones that around the same size. Keep in mind that it won't fit anything larger than slightly over 6 inches for sure.
Eyelogy Virtual Reality Headset: Controls & Display
You're able to adjust the display from 55-68 mm. without much difficulty from any of the three dials located on the headset, but there aren't really any other controls. What sets this headset apart is the fact that turning these dials doesn't just move the lenses on a single tray. They move them ever so slightly independently, which should provide an image free of distortion for most users.
Unfortunately, some of these design decisions are the reason that some users report seeing a black box around the 3D image they're watching. Users with a slightly larger phone never seem to have this display problem. As such, it might have something more to do with size than with the controls.
Eyelogy Virtual Reality Headset: Setup
It won't take long at all to set the EYELOGY headset up since there are so few configuration options. You merely need to snap the bay open up front, insert your phone after finding a 3D image and then close it. Put the goggles on and adjust the image. The device should support a majority of generic virtual reality apps without too much work in fact.
This is because it tries to play to a number of different design standards. If you've ever worked with any Google Cardboard clone systems, then you already know the process. Users who haven't should find that this is an excellent device to get their feet wet with, and it won't set them back much either.
Eyelogy Virtual Reality Headset: User Experience
What's interesting is that more than one user has actually said these make great gifts, especially for younger users. That supports the idea that these goggles are excellent tools for beginners who might not have worked with virtual reality equipment before.
Beginners who might damage them won't have to worry about paying a great deal for replacement parts either, considering their relatively low cost. A third user, however, complained that he saw black lines around the image because of the size of his phone.
Bottom Line
Experienced users may not particularly care for the Eyelogy headset. But those who are just starting out will love how simple they are. They're an excellent buy for the price. And those who want to have a second pair around as a spare or are looking to buy a gift for someone should certainly love these goggles. They're decently built. What's more, you shouldn't have too many mechanical problems with them either. Nonetheless, you shouldn't be too rough as they are a low-end pair.
If you have any experience with Eyelogy goggles, then we'd love to hear from you. Stay tuned for more of our professional VR reviews too!