*This post may contain affiliate links. As an Amazon Associate we earn from qualifying purchases.
Although it was met with skepticism and disregard, the Google Cardboard headset is more than what firstly appears to be. As its name suggests, the Google headset is made of thin lenses attached to a part of a cardboard box. Google figured it would be an excellent way for students to acquire low-cost equipment, and some companies have used the Cardboard viewer for promotional reasons.
It's easy for hobbyists to build out of objects they have lying around the house, and it's important to keep this target demographic in mind. We decided to take a closer look at what might be the most interesting VR headset on the market.
Google Cardboard Headset – Specs
| | |
| --- | --- |
| Headset Type | Makeshift cardboard virtual reality head mount |
| Resolution | 720p |
| Field of View | 100˚ |
| Sensors | None in the conventional sense, though a simple rubber band provides some adjustment |
| Controls | Touchpad + Home and Back buttons. It can use an Android Bluetooth or a wireless joystick |
| Platform | Android, Google Store |
| Amazon Rating (out of 5) | 3 |
| Our Rating (out of 5) | 3.6 |
Google Cardboard mounts are sculpted from a pair of 45mm focal length lenses with magnets or capacitive tape, Velcro, rubber bands and strips of cardboard. It's easy to say that it's a truly unique head mount. Some technology conventions actually give Cardboard mounts away as parting gifts, and it's seen some use in schools. Users generally like the novelty of it, although it might prove difficult enough to be constantly worn as a VR platform.
It's easy enough for children to build their own Cardboard, which has encouraged its adoption as an introduction to mobile device development for youngsters. Google still discourages those who are too young from using 3D technology for safety reasons. Various unique uses for the device have been found, and the New York Times even offers a Cardboard-compatible version of their newspaper.
Google Cardboard Headset – Pros & Cons
Pros
[su_list icon="icon: plus-circle" icon_color="#23a006″]
Easy to build
Extremely low cost
Large numbers of apps support the platform
Makes a fun novelty gift
Works well in classrooms if students are old enough for VR technology
Open-source hardware allows third-party developers to easily make their own devices
[/su_list]
Cons
[su_list icon="icon: minus-circle" icon_color="#a00e06″]
Rubber band construction makes headset uncomfortable
Not compatible with some Apple products
Easy to rip or tear considering it's actually made from cardboard
Rather unusual aesthetics
Can cause paper cuts when worn incorrectly
[/su_list]
Google Cardboard Headset – Design & Requirements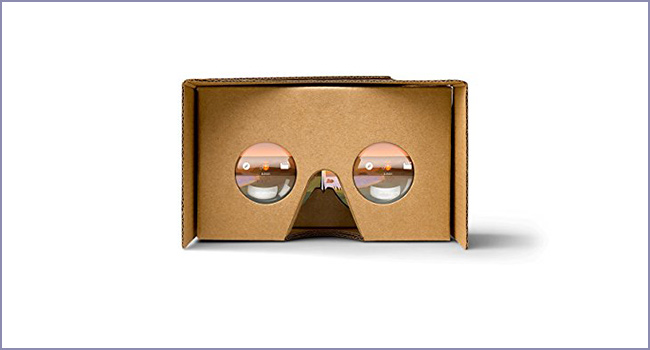 [su_button url="https://www.amazon.com/Google-87002822-01-Official-Cardboard/dp/B01L92Z8D6/?tag=probestvr.com-20″ target="blank" style="flat" background="#f40616″ size="6″ center="yes" radius="0″ rel="nofollow"]Check Prices[/su_button]
Cardboard head mount boxes have supported mobile devices with up to 6″ screens since 2015. They support the majority of Android handsets as a result. It's easy to follow Google's directions and cut an actual piece of cardboard to size. Or you can order it and skip the building process.
The open design standard allowed Mattel to design a View-Master around the Cardboard plans and other companies make plastic and nylon ABS versions. Genuine cardboard versions of the viewer will sometimes prove to have sharp edges as a result of their design. You may wish to smooth these out with a simple hobby blade. Please be careful if you go this route.
Google Cardboard Headset – Controls & Display
Traditional Google Cardboard sets don't have any controls at all. A few Velcro adhesive strips and a rubber band is all that the box offers in terms of customization. Some third-party models offer knobs or dials to reposition the lenses, but even these are rather spartan.
While this almost total lack of configuration options might be rather underwhelming, it does make for a very crisp view. The heavily reduced field of view translates into a high pixel density per degree, which makes the Cardboard look much sharper than it otherwise should.
Google Cardboard Headset – Setup
If you're building your own Cardboard set, then the setup literally consists of cutting out a pattern printed from a PDF on Google's developer's page. Users who buy pre-made units won't have much to configure at all. This lack of configuration and unusual material composition actually lead some early adopters of the Cardboard platform to treat it as an April Fool's Joke.
However, Google is actually quite serious about the number of growing Cardboard users. Users get a test screen featuring two dancing masks when they first start the Cardboard app. And there's no reason to make any further adjustments after the masks are focused.
Google Cardboard Headset – User Experience
Many users have a few major complaints about the Cardboard once the novelty wears off. Though the pixel depth is extremely high and the Cardboard supports a huge number of apps, the view suffers heavily when you move your head. Stutter becomes a big problem if you're in motion at all. You'll need to find the perfect sweet spot to put your head that gives you the best image, and you'll need to leave your head just like that.
On the other part of the review spectrum, users are content with the quality of the Google Cardboard headset at this price point. One user is content with the Cardboard VR headset. He compares it with the Samsung Gear VR. While stating that the Cardboard VR does not have a USB port, it has high-quality lenses which are almost as sharp as the Samsung ones.
Bottom Line
Cardboard represents a cost-effective solution for people who want to get their feet wet in the world of VR technology, but it's an extremely simple one. The pixel depth is surprisingly very high, but the low field of view makes up for it. It's hard to beat the price. And that's what makes it easy to suggest the Cardboard for those interested in tinkering with unusual technology.
What are your thoughts about the Google Cardboard VR headset? Have you used it? If not, tell us your worries or questions, and we'll help you with all the answers available. Don't forget to subscribe to our newsletter to stay up to date on our Pro Best VR reviews.