*This post may contain affiliate links. As an Amazon Associate we earn from qualifying purchases.
What sets the Homido VR headset model apart is the fact that the company actually tested the unit with over 300 different iOS and Android apps to make sure that it was compatible. Most companies just design a headset to certain specifications and claim that it's compatible with everything that matches said specifications.
Homido also made some interesting claims about compatibility with 360° videos that other devices that meet the same price point couldn't match. We were curious about the manufacturer's claims about their product, so we decided to do more research as well as see what other users were saying about it.
Homido VR Headset: Specs
Homido VR Headset Specs
Headset Type
360° VR Headset
Resolution
1080i
Field of View
100°
Sensors
None
Controls
Pupillary Adjustment Dials
Platform
Android and iOS Phones
Amazon Rating (out of 5)
3.5
Our Rating (out of 5)
3.8
Some users have called the Homido VR set a low-end version of the Oculus Rift with good reason. It features the same simulated 360° view without the high cost of the Rift. Unlike the Rift, however, nothing actually plugs into your phone. It simply uses a passive Cardboard-style dock, which might make it less appropriate for those who were hoping to play serious VR games with the unit.
Many virtual reality headsets solve the problem of excess smartphone heat by adding extra vents to the front of the unit. Homido's engineers did this, but they also left most of the docking bay completely open to keep your phone cooler. While it looks unusual, smartphones actually don't have any difficulty staying inside and they don't heat up the way they do in other similar models.
Pros & Cons
Pros:
[su_list icon="icon: plus-circle" icon_color="#23a006″]
Supports most smartphones on the market
Features a high-quality head strap that's easy to adjust
Comes already assembled
Sells for a low price compared to similar units
Proprietary Humidor app views 2D, 3D and 360° videos from many different sources
[/su_list]
Cons:
[su_list icon="icon: minus-circle" icon_color="#a00e06″]
Few controls make it inappropriate for gamers
What little documentation it comes with isn't very helpful
Newer Samsung phablet devices won't fit in the dock
Offers little in the way of interactivity
[/su_list]
Homido VR Headset: Design & Requirements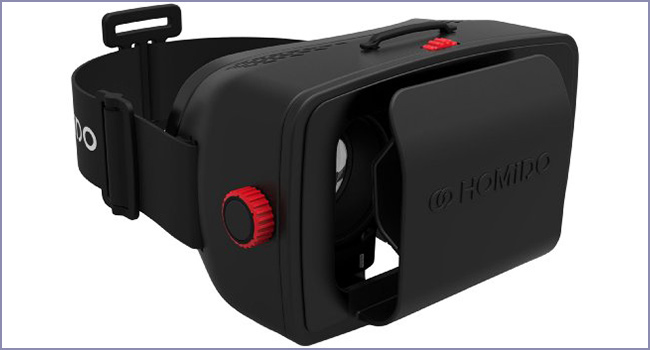 [su_button url="https://www.amazon.com/Homido-HOMIDO1-Virtual-Reality-Smartphone/dp/B00PQA5DVU/?tag=probestvr.com-20″ target="blank" style="flat" background="#f40616″ size="6″ center="yes" radius="0″ rel="nofollow"]Check Prices[/su_button]
Homido designed the headset to work with any phone between 4-6 inches, which means it should support pretty much anything besides newer Samsung 7-inch models and Windows phones. While it does support Google's Cardboard apps, Homido also markets their own free VR platform called Humidor. Currently, Homido is really the only company developing apps for Humidor. but this is set to change in the very near future. Some users compare the fit and finish to the Samsung Gear VR more than the Oculus Rift, but Homido's solutions aren't merely limited to the newest Galaxy phones.
Homido VR Headset: Controls & Display
Homido's engineers opted for a mostly passive design, so there are few regular controls to speak of. You'll need to change most options on your phone using its regular interface, but there are a few pupillary adjustment dials that give you the ability to adjust the focal point if you have any difficulty converging the two images into one. While you might be initially dismayed by the fact that Homido's VR device doesn't come with a Bluetooth remote, keep in mind that this device isn't marketed toward hardcore gamers. It's also important to remember that iPhone users have difficulty getting their mobile devices to recognize these remotes anyway, so it's not that big of a loss.
Homido VR Headset: Setup
Despite comparisons to other similar products, this Homido VR model is completely passive. You won't have to worry about plugging anything into your phone or any other device. It's wireless and doesn't even need to be charged. However, that means your only source of light comes from the phone's own backlight. Simply snap your phone into the dock at the front and then turn the dials on the side and top of the unit to focus it. There shouldn't be any other adjustments to make, though some users report never getting the full 360° experience that the company promises.
Homido VR Headset: User Experience
The Homido VR unit has received some mixed reviews. One user thought that the device was easy to use, but he complained that the headset was uncomfortable and difficult to focus. Another user said that they liked the sturdy carrying case, but reminded buyers that they'll get more out of Homido's device if they have a phone with a higher-resolution screen, to begin with.
A third user was actually quite happy that the headset worked well with his iPhone 6 and had a nice comfortable fit. He recommended taking a few extra moments to make sure that you've adjusted the strap. By doing so, it surely fits well on your head.
Bottom Line
Homido's headset isn't the most polished unit on the market. However, it does everything it needs to without having a huge price tag. It's an excellent headset for newcomers to virtual reality. The reason is that you won't have to worry about compatibility problems. And it's one of the few serious low-end options for iPhone owners.
Some people have experienced comfort issues, though. So it might not be the best option if you plan to wear it for any extended period of time. If you have any experience using Homido's products, then we'd love to hear from you. Make sure you stay tuned for more of our professional VR reviews!