*This post may contain affiliate links. As an Amazon Associate we earn from qualifying purchases.
The virtual reality headset is a new 3D Gaming experience that is perfect for beginners because it does not require a cell phone or any fancy computer for use. Its resin lenses will stop dizziness and visual fatigues from happening. This headset plays all Google Play apps and 3D YouTube videos. The budget friendly headset uses Wi-Fi to support 3D video feedback and has all of the necessary cables included. This article will expand on the details of the HYON VR Headset in a fair review of each feature.
HYON VR Headset: Specs
| | |
| --- | --- |
| Headset Type | 3D Gaming Headset |
| Resolution | 1920*1080 Resolution |
| Field of View | 360 Degrees |
| Sensors | Rotational |
| Controls | Support Remote and Pupil distance |
| Platform | Nibiru OS Android Linux 5.1 |
| Amazon Rating | 3.6 out of 5 stars |
| Our Rating | 3.5 out of 5 stars |
A mixture of ABS plastic and 42mm round resin is used to replace the plastic sheet that many other virtual reality headsets have used. In turn, this Android device comes with 1920*1080 resolution that can provide an outstanding quality of 3D images while reducing the amount of strain on the eye for users that experience the 360-degree visual headset. The reduced strain and dizziness a significant feature for those who use these goggles to play any sort of competitive internet games and the pupil distance control helps gamers remain concentrated.
Pros and Cons
Pros
[su_list icon="icon: plus-circle" icon_color="#23a006″]
Moderately budget friendly at $179 compared to most other top-notch gaming virtual reality headsets
Resin lens design makes for exceptional picture quality
Numerous software possibilities so that operators have a lot of selections to choose from for what they can do with their VR headset
Great size for children
Large hard drive for multiple app installations
Removable face cushion for hygiene
[/su_list]
Cons
[su_list icon="icon: minus-circle" icon_color="#a00e06″]
The fastenings can be relatively close-fitting and painful to wear
There is no room left for eyeglasses wearers
The headset has a tendency to get pretty hot while in use
It is not compatible with a PS4 even though it is advertised to be
Often lags when in use for online games
The cinema app does not actually allow for the purchase of movies
[/su_list]
HYON VR Headset: Design and Requirements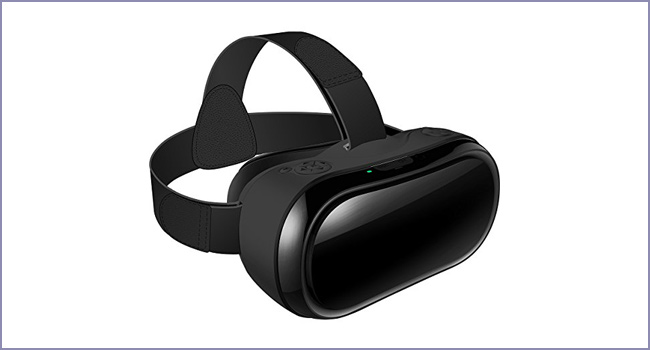 [su_button url="https://www.amazon.com/HYON-Headset-Immersive-Bluetooth-Controller/dp/B01KR8ZYP0/?tag=probestvr.com-20″ target="blank" style="flat" background="#f40616″ size="6″ center="yes" radius="0″ rel="nofollow"]Check Prices[/su_button]
The virtual reality headset is much like other Nibiru OS devices in that it features a processor system that can play 3D content. The 3D system is perfect for gaming; however, users of the headset must maintain it just like any other processor. The headset allows users to play any of the virtual reality games that Google Play has sponsored in recent years including a majority of the dedicated games that individuals play competitively on the internet.
HYON VR Headset: Controls and Display
The package comes with 1 x All-in-one VR Headset, 1 x 5V/2V Adapter, 1 x MicroUSB Charging Cable and 1 x HMDI Cable; plus, it has a more than 90 percent diploma view attitude. Since the headset works like any typical Android device, countless kinds of controllers can be connected to it. For most types of games, the controls provided on top of the headset are adequate. When the headset is connected through an HDMI cable, any controller the host system offers can be used. Sometimes the system is known for having delays of a few milliseconds, and these delays can be a serious problem when playing games on the internet.
HYON VR Headset: Setup
Because the HYON virtual reality headset uses the complete setup of the Nibiru operating system, several options will have to be set before the headset can be used. A number of preference menus and control panels will be shown to browse through; this can be difficult for some users when viewing the display in full 3D mode. A QR code is provided to help with downloading software updates if mandatory; however, the headset typically ships with the latest version of the software. We recommend users make sure the system is up to date before using the headset, for security reasons.
HYON VR Headset: User Experience
One of the most common criticisms of the headset is the fact that it is not compatible with Sony PlayStation 4 equipment regardless of the fact that HYON markets that it does. One reviewer stated that they could get the sound to work momentarily when connecting to the PS4, but that it took a long time and was very delayed when it did work.
One more reviewer shared protest regarding the headset is that the straps make it very narrow on the head, and another purchaser shared that there is no room at all for those that wear glasses.
On the other hand, there were many good reviews that thought that device was great, even for outdoor parties. Some reviewers were impressed by the unbelievable views, but others did not agree and felt that the quality was very poor. One reviewer even felt that the face pad was not good quality.
The asset that reviewers seemed to like the most was that the headset is very budget friendly for a virtual reality 3D system. However, many felt that it was too expensive if it did not work as they had expected.
Bottom Line
The HYON virtual reality headset is a new 3D gaming experience that is excellent for those just starting out. The system uses Wi-fi connection to provide users with a 3-dimensional, 360-degree view of their game. Using 1920*1080 resolution and rotational sensors plus the pupil distance controls make the system very high-tech and fun. The Android device had good ratings, but it should be noted that it is not necessarily compatible with a PS4. Most reviewers say that it is worth the price as long as buyers have low expectations. The small design is considered to be perfect for children, and the face cushion can be removed for hygienic reasons. The HYON virtual reality headset is an overall respectable, low-cost VR gaming experience.