*This post may contain affiliate links. As an Amazon Associate we earn from qualifying purchases.
The Lemfo virtual reality headset is essentially the same as the goggles marketed under the original VR Box, which isn't a bad thing considering the success that design enjoyed. While it's certainly not aimed at the premium market, this headset is affordable and great for beginners looking to buy their first pair of virtual reality glasses.
Individuals interested in virtual tourism might also gravitate toward these goggles because they support so many apps in this field. They work with a broad range of phones, so we examined many types of user reviews as well as hardware specifications when drafting our review to make it as fair as possible.
Lemfo Virtual Reality Headset: Specs
| | |
| --- | --- |
| Headset Type | VR Box Device |
| Resolution | 720p |
| Field of View | 1100° Actual |
| Sensors | None |
| Controls |             Pupil Adjustment |
| Platform | Smartphones 3.5-6 inches |
| Amazon Rating (out of 5) | 4 |
| Our Rating (out of 5) | 3.8 |
Three independently adjustable straps should help provide ample comfort for most users, though many owners complained that they can't adjust the lenses independently from one another. This shouldn't be a problem for most users, and the lenses provide such a bright image that few people would notice. A number of vents should clear off most waste heat. The designers made sure to avoid placing vents in any location that would get in the way of the audio jack, which makes it easy enough to connect earphones to your mobile device while still wearing the viewer.
Pros & Cons
Pros:
[su_list icon="icon: plus-circle" icon_color="#23a006″]
Straps feature Velcro strips on them that allow you to adjust them to any shape, which ensures that you get a comfortable fit
Compatible with a wide-range of apps in spite of the fact that there isn't an official compatibility list
Probably the most affordable design currently on the market
Provides certified support for Windows Mobile devices, which is fairly rare among low-end VR headsets
[/su_list]
Cons:
[su_list icon="icon: minus-circle" icon_color="#a00e06″]
Focus adjustment dial doesn't control each eye independently, which can be a problem for some users with myopia
Documentation is translated from another language very poorly and is difficult for many users to figure out
Spring-loaded clamp that controls the docking bay suffers from design flaws
[/su_list]
Lemfo Virtual Reality Headset: Design & Requirements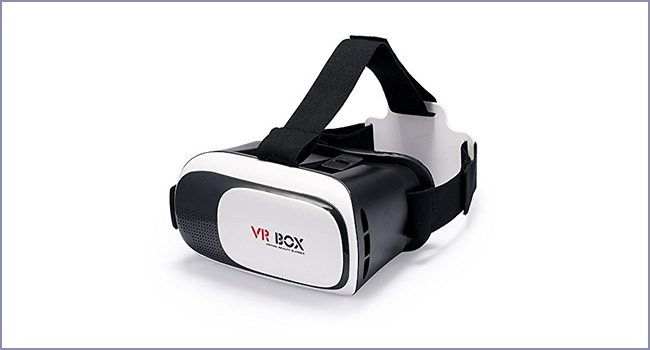 [su_button url="https://www.amazon.com/LEMFO-Virtual-Reality-Distance-Adjustable/dp/B01D5Z3YMC/?tag=probestvr.com-20″ target="blank" style="flat" background="#f40616″ size="6″ center="yes" radius="0″ rel="nofollow"]Check Prices[/su_button]
While the glossy white exterior might immediately draw comparisons with Apple's products, the Lemfo VR glasses actually provide support for proprietary Microsoft and Asus products that other companies would never support. Several iterations of the Samsung Galaxy Note work fine with it, as too do the S6 and S6 Edge.
Lemfo tested their goggles with the iPhone 6, 6s and 6+ as well as the 5s and 5c designs. Users of Sony Xperia phones shouldn't have any difficulties using the design either. VR Box technology is every bit as mature as the Google Cardboard platform as a whole. Naturally, Lemfo didn't provide a list of compatible apps. Simply searching VR on the Google store should be enough for most users.
Lemfo Virtual Reality Headset: Controls & Display
Even though you can't adjust the lenses independently, you can change pupil distance and focal distance independently of one another. This helps to overcome some limitations inherent in other low-end designs. While the lower resolution of the display ensures a higher pixel depth than other units, some users note that images appear with letterboxes around them.
This gives the appearance of watching a wide-screen cinematic movie, which is fine for films but a problem for gamers. Nevertheless, it's ideal for those who are trying to watch VR documentaries.
Lemfo Virtual Reality Headset: Setup
Sliding your phone into the dock is easy once you get the hang of the way the mechanism opens, but you need to be careful not to break it when opening and shutting it because it's rather fragile. You'll need to search for virtual reality apps when you first configure your device for use with the Lemfo viewer since the glasses don't include a QR code card.
Using it with power and audio adapters is easy enough. So you shouldn't have to devote much time to this aspect of the configuration. The Velcro strips make it easy to reposition the glasses in a way you find comfortable as well.
Lemfo Virtual Reality Headset: User Experience
One of the biggest complaints from users is that the documentation is poorly translated and therefore difficult to follow. Some advice in the manual, according to one user, is actually suspect and requires the use of products that the Lemfo VR viewer kit doesn't come with.
Other users had few complaints, however, and even said that the fact that it doesn't come with a Bluetooth remote gives users the option of selecting whatever controller they'd prefer to use with it. This is particularly important for fans of Apple's mobile devices.
Bottom Line
Anyone who is looking for a pair of extremely inexpensive VR viewer glasses should certainly be happy with their price tag. But advanced users will need something a little more sophisticated. It's a great buy for someone who is inexperienced as long as they're ready to take a look online. This will help them find a way to configure their phone with the device as the documentation might be less than helpful.
Their attractive price and ease of configuration have made them useful in the education market as well. Please let us know if you have any experience using the Lemfo viewer and stay tuned for more of our virtual reality reviews.