*This post may contain affiliate links. As an Amazon Associate we earn from qualifying purchases.
When someone showed us the Merge VR headset for the first time, we immediately noticed their unusual shape. These don't look like any standard headset we've seen, and with good reason. They're made by a young startup company that got put together with the sole intent of marketing this exact product. Such an unusual design piqued our interest. Naturally, we researched both the hardware and the user experience to see for ourselves what all the buzz was about.
Many other reviewers have said that Merge goggles are great for beginners. But we genuinely think that they've got excellent crossover appeal that could play to intermediate as well as advanced VR users.
Merge VR Headset: Specs
Merge VR Headset Specs
Headset Type
Wrap-around VR Headset
Resolution
Dependent on device
Field of View
Nominally 360°
Sensors
Audio
Controls
Dual input buttons
Platform
iOS and Android mobile devices
Amazon Rating (out of 5)
4
Our Rating (out of 5)
4.2
Merge claims that their VR goggles boast a 360° field of view and even put a small decal proclaiming this to the world on the front of each of their headsets. However, in practice, the field of view, as well as the resolution, is limited by whatever type of mobile device you use in it.
You should still get an excellent pixel depth regardless of how big or small your phone is. The engineers behind the Merge project wanted to put together a pair of goggles that would be useful for the education and virtual tourism industries as well as the consumer segment. This unique view field would be useful for either.
Pros & Cons
Pros:
[su_list icon="icon: plus-circle" icon_color="#23a006″]
Features a lightweight, comfortable and easily adjustable design made from completely flexible material
Phones can fit into the dock without having to remove any slipcover or case that's around them
Comes complete with an opening for users of augmented reality apps
Protects devices if dropped while in use
[/su_list]
Cons:
[su_list icon="icon: minus-circle" icon_color="#a00e06″]
Aesthetically unusual and molded in a strange lavender hue, though some users might actually like this
Flexible materials can eventually stretch out
Dock is too small for users of certain Apple iPhone devices
[/su_list]
Merge VR Headset: Design & Requirements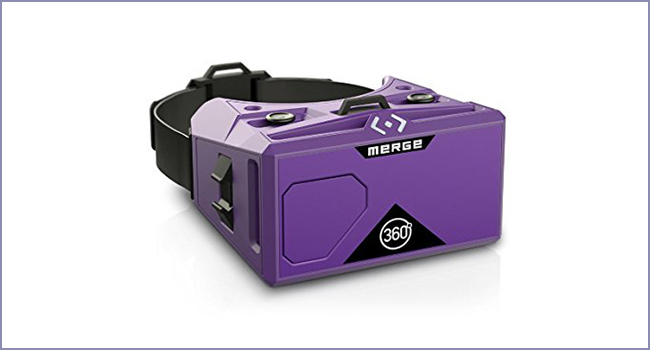 [su_button url="https://www.amazon.com/Merge-VR-Virtual-Reality-Headset/dp/B015CD6NVE/?tag=probestvr.com-20″ target="blank" style="flat" background="#f40616″ size="6″ center="yes" radius="0″ rel="nofollow"]Check Prices[/su_button]
The Merge headset is molded from a single piece of flexible material. As such, it should be able to fit many sizes of mobile device. Users of the 5th generation Apple iPod Touch devices could even use them with the Merge goggles, and the company tested it with the Galaxy S5 as well as the HTC One M8. The LG G4 and newer phones also fit comfortable in the dock even when their slipcover is left on.
This soft foam design also contours to your face, though it might eventually take the shape of your face which can make it difficult to share with other users. It's easy enough to wipe down after each use, though, which can help to alleviate this problem somewhat.
Merge VR Headset: Controls & Display
It features a mostly passive display that's powered by your smartphone. Keep in mind that the Merge headset isn't like competing designs based on Google's Cardboard platform. On the one part, the lens package might not offer the impressive 360° FOV the developers have promised when used with most devices. O the other, these goggles still offer a display that's unrivaled when it comes to pixel depth and object size.
A unique dual input system allows you to use buttons on the top of the headset to play most games without a controller. The control buttons sort of have the feel of those of a classic game console. But playing VR games with what amounts to a Sega Genesis or NES controller takes a bit of getting used to.
Merge VR Headset: Setup
The foam unibody design makes configuring the Merge goggles far different from configuring pretty much all the other headsets on the market. The dock sort of wedges open and you're then able to connect your smartphone to the goggles before wedging it closed.
You can use pretty much any static or animated VR image to adjust the focal distance. Some users have complained about being unable to get the lens package in focus because of this unusual design. Meanwhile, others actually felt it was easier to work with than their regular pair of VR goggles.
Merge VR Headset: User Experience
One user praised the use of the dual input system as well as how comfortable the goggles are, though he did say the aesthetics were strange. He also mentioned that the foam material might eventually get stretched out, which seems to be a common concern. Another user mentioned that a family member loved the way that the Merge headset was designed with virtual tourism in mind. Some users have serious problems getting the lenses into focus, unfortunately.
Bottom Line
Due to its wide range of applications, the Merge headset could be called a VR appliance. It would seem more appropriate than calling it a consumer device. You can certainly use them to watch movies. But you might also want to use your new pair of goggles to play serious games or run the educational software Merge promotes.
These goggles could, perhaps, have had an even higher rating if it weren't for the focusing problems some users have had. Do you have any experience with Merge VR goggles? We'd love to hear from you, and we hope you'll stay tuned for more professional VR headset reviews.