*This post may contain affiliate links. As an Amazon Associate we earn from qualifying purchases.
Unlike most other low-end VR headsets, the NeuTab goggles aren't a mere clone of some other Google Carboard unit. They're essentially a rebranded version of the VR Box 2 system, and it actually shares some of the QR codes as a result.
We were interested in whether such a low-cost pair of virtual reality goggles such as those from NeuTab would work as promised. Having taken a look at the hardware as well as testimony from a number of users, it's safe to say that we were somewhat surprised with the results.
NeuTab Virtual Reality Headset: Specs
Freefly VR Headset Specs

Headset Type

VR Box 2 Headset

Resolution

720p

Field of View
Simulated 360°
Sensors

None

Controls

            Lens adjustment

Platform
Smartphones 3.5-6.3 inches
Amazon Rating (out of 5)

4

Our Rating (out of 5)

3.8
The NeuTab headset simulates a full 360° field of view completely through software without using any physical sensors. Apps downloaded through the official QR code work with the accelerometer and rotational awareness hardware inside of your phone to track the motions of your head. NeuTab goggles are still a passive design, but this is a rather novel way to solve the problem of how to generate a huge field of view.
It should be noted that this is in no way original. In fact, there are many Google Cardboard viewers that use the same process. However, this is one of the few headsets that actually use that as a selling point and promote it to new users through the official software.
Pros & Cons
Pros:
[su_list icon="icon: plus-circle" icon_color="#23a006″]
Offers excellent pixel depth and field of view, even if manufacturer's claim of 360° is based on a software subroutine
Very light design weighs in under 6 oz.
Features QR code list, which makes configuration extremely simple
Designed around a new type of heat sink that promises to eliminate microprocessor waste heat without large vents
[/su_list]
Cons:
[su_list icon="icon: minus-circle" icon_color="#a00e06″]
Claims to work with eyeglasses, though some users fear it could bend their frames
Strap eventually comes off one side of the headset and can detach totally if you're not careful
Can take a bit of practice to situate the phone correctly in the dock
[/su_list]
NeuTab Virtual Reality Headset: Design & Requirements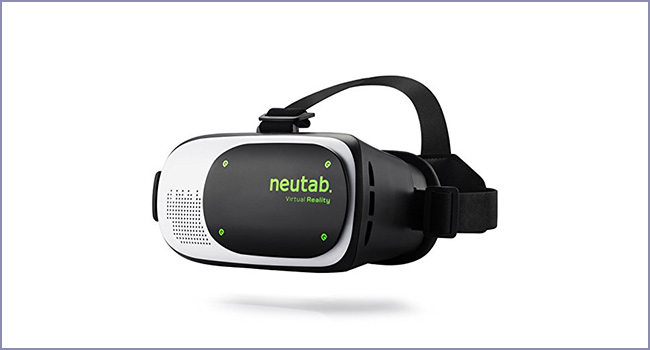 [su_button url="https://www.amazon.com/NeuTab-Virtual-Reality-Immersive-experience/dp/B01IE23LME/?tag=probestvr.com-20″ target="blank" style="flat" background="#f40616″ size="6″ center="yes" radius="0″ rel="nofollow"]Check Prices[/su_button]
NeuTab glasses should work with almost all modern Android and iOS phones with screens measuring between 3.5-6.3 inches. This includes the iPhone 7, which doesn't work very well with some other virtual reality devices.
The special passive ducted cooling system does it's best to cut down on any humidity that might get trapped in the dock while you're wearing them. While it's not as foolproof as the manufacturer claims, what's surprising is the fact that the lenses don't fog up nearly as much as they do on most other budget models.
NeuTab Virtual Reality Headset: Controls & Display
Dual sliders on the top of the glasses let you adjust the focal depth, though the manufacturer isn't quite clear on how much you can adjust the lenses. Tests seem to indicate that it's more than enough to correct for most nearsighted and farsighted users without the need for eyeglasses.
Since it offers such a high pixel depth at a comparatively low resolution, the NeuTab's display gives users an extremely colorful experience at the expense of some sharpness. The contrast is always high enough to tell different objects apart from one another, which is important when working with budget virtual reality devices like this one.
NeuTab Virtual Reality Headset: Setup
Most NeuTab kits ship with QR codes for you to snap with your phone, though you can manually enter the provided URL as well if your phone can't snap codes. The company also provides an updated list of apps from their site, which is constantly updated with new software that's compatible with the NeuTab glasses.
Once you have a compatible app ready, you'll need to figure out the right way to slide your phone into the dock. While it fits in several ways, you'll only be able to close the lid with the pone put inside the VR in the right direction. Unfortunately, there's nothing to indicate which way is the right way. The front dock leaves plenty of space for you to attach a cord going to the audio jack of your phone.
NeuTab Virtual Reality Headset: User Experience
Complaints about figuring out how to put mobile devices into the dock are quite common, and one user would also prefer an additional focusing control. Issues with the strap plagued another user, and these issues are again a common complaint. Many users had positive first impressions, though, and said that the goggles could mold to fit any face without causing any discomfort in the process.
Bottom Line
While we wouldn't confuse the NeuTab goggles for a more expensive premium device with onboard sensors and other options, we were surprised by the fact that such an inexpensive unit did work as intended. It's ideal for those who are just starting out, but experienced users and serious gamers will probably want something with an additional focus control. The fact that they're affordable will probably make them ideal gifts, as well, since people can comfortably order a number of these at once.
Do you have any experience using a pair of NeuTab VR goggles? If so, then we'd love to hear from you. Let us know what you think, and stay tuned for more of our virtual reality reviews.