*This post may contain affiliate links. As an Amazon Associate we earn from qualifying purchases.
The NSInew virtual reality headset features a premium design that's marketed primarily toward gamers. The price tag certainly reflects this, but it's easy enough to find them on sale from time to time so users can get a decent deal if they look around. They promise an immersive VR user experience through the use of some special Cardboard platform programming tricks.
This will probably cause some users to draw comparisons to other viewers that do the same thing such as the NeuTab glasses. This isn't entirely fair since the NSInew viewer does this in a slightly different way. We wanted to see for ourselves how this viewer worked, so we examined the hardware and some user comments to put together a fair review of these glasses.
NSInew Virtual Reality Headset: Specs
NSInew Virtual Reality Headset Specs
Headset Type
Google Cardboard Plus Device
Resolution
720p
Field of View
110-360°
Sensors
Passive
Controls
  Pupil adjustment and Bluetooth remote control
Platform
iOS and Android mobile devices
Amazon Rating (out of 5)
4
Our Rating (out of 5)
4
We noticed the magnetic front dock right away on this device because it's different from the docks on other models. Those models normally use mechanical clasps to hold your phone in place. Some users might be concerned about using magnets to hold their phone while they're using the VR viewer because generally permanent magnets and sophisticated electronics don't mix.
They're positioned so that they won't cause damage to your phone's display, however, and aren't strong enough to be of much concern. You might actually have a lower risk of damage to your mobile device while using the NSInew viewer since you won't have to worry about your phone falling out.
Pros & Cons
Pros:
[su_list icon="icon: plus-circle" icon_color="#23a006″]
Provides an extremely immersive field of view that changes depending on your position
Works with the locational sensors that are already installed in your smartphone
Flexible design allows users to make more adjustments than normal to the focus depth
Comes with relatively high-quality earphones, which work well with the goggles.
[/su_list]
Cons:
[su_list icon="icon: minus-circle" icon_color="#a00e06″]
Can sometimes come with a pretty high price tag, though it's possible to find sales
Designed with gamers in mind, but isn't compatible with some games ironically
Doesn't fit larger phones around 6″
[/su_list]
NSInew Virtual Reality Headset: Design & Requirements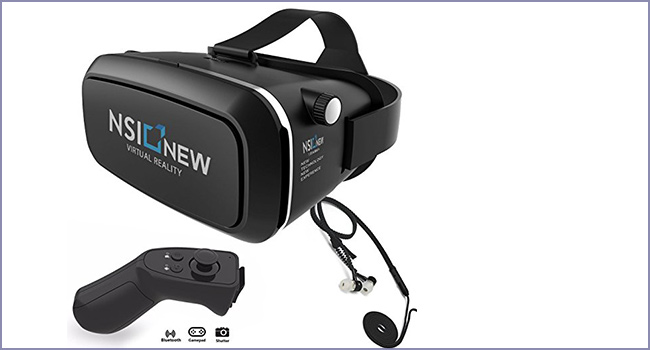 [su_button url="https://www.amazon.com/Virtual-Reality-Headset-NSInew-Comfortable/dp/B01HZUWDJ8/?tag=probestvr.com-20″ target="blank" style="flat" background="#f40616″ size="6″ center="yes" radius="0″ rel="nofollow"]Check Prices[/su_button]
The NSInew viewer should support phones up to around 6 inches. Unfortunately, in practice, it has difficulty holding these larger phones. It should work with most smaller Samsung and HTC devices.
Some users have reported that current generation iPod technology works as well. This is because these devices can run compatible virtual reality apps. Size, once again, is the limiting factor. At least one user reported that their Samsung Galaxy S6 Edge worked fine with the magnetic dock. As such, some makes of phones may actually fit better than those of other makes.
NSInew Virtual Reality Headset: Controls & Display
NSInew's engineers designed these glasses for gamers. As such, they included a Bluetooth remote control. It features additional buttons for those playing horror and FPS games. iOS 10 devices have some difficulties recognizing generic Bluetooth devices. However, most users should find that these remotes work well with their phones. The display appears to be cinema-sized once you have the glasses on.
Once again, the immersive technology is geared mostly toward the gamer market with a simulated screen that should stay crisp even when featuring multiple particle streams blasting on it. This is important for those who play FPS titles that feature explosive weapons as a player upgrade.
NSInew Virtual Reality Headset: Setup
When you first pop the magnetic dock open, you'll find that your phone more than likely will fit in only one direction. Inserting the audio cable is easy once you have it situated correctly. The company provides two rather generic links to search for virtual reality app. Nonetheless, it should be compatible with most titles you download.
The only drawback to this is that you won't know whether an app is fully compatible before you try it. Installing an app only to find out later that it doesn't work properly can be rather annoying.
NSInew Virtual Reality Headset: User Experience
Comfort is serious business when it comes to playing games for an extended period, so it makes sense that many reports on Amazon discuss this aspect of the equipment with more than a few saying that the glasses exceeded their expectations.
Since getting controllers to work with iOS is usually so difficult, a number of users praised the fact that it wasn't hard to do so. Judging by the experience of one new user, though, these might not be a good buy if you don't already know how to configure a VR headset.
Bottom Line
They're not a good fit if you've never used virtual reality goggles in the past. The NSInew VR headset is ideal for serious gamers playing a wide variety of AAA-class VR games on their mobile devices. They can be rather expensive, but there are enough deals available to help defray some part of this cost. They're certainly less expensive than similar plug-in models for PC and console games anyway.
If you have any experience using any of the pieces of VR equipment we review, then we'd love to hear from you. Stay tuned for more of our reviews too!