*This post may contain affiliate links. As an Amazon Associate we earn from qualifying purchases.
How can one explain virtual reality? The best image possible would be this one: you jump off a very tall building and you see everything around you while you're falling. Any second now you're about to hit the ground. And you hit the ground. But you do so while sitting comfortably on your couch or armchair. That is virtual reality. This revolutionary technology started with one name: Oculus. In this review, we're going to see the main characteristics of the Oculus Rift. The VR headset is a true marvel of 4-year engineering and research. Here's what we did find out.
Oculus Rift – Specs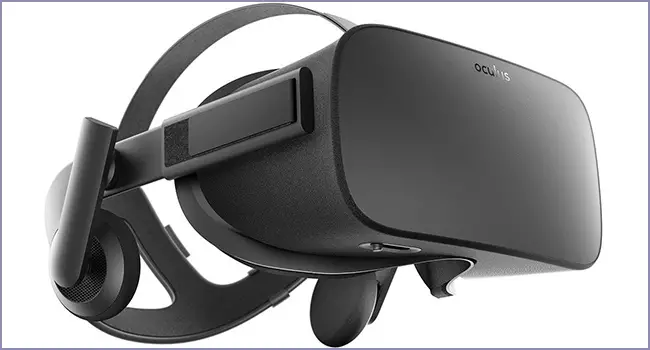 | | |
| --- | --- |
| Headset Type | VR headset |
| Resolution | 2160 x 1200 |
| Field of View | 110° |
| Sensors | Accelerometer, gyroscope, magnetometer, Constellation tracking camera. |
| Controls | Oculus Touch, Xbox One controller |
| Platform | Oculus Home |
| Amazon Rating (out of 5) | 3.8 |
| Our Rating (out of 5) | 4.6 |
The Oculus Rift headset offers a 2160 x 1200 resolution with a 110° field of view. Regarding sensors and controls, it offers haptic feedback, a gyroscope, magnetometer and a constellation tracking camera for area mapping. The controls are Oculus Touch and an Xbox One controller. With these controllers and the constellation camera(s), you're set and ready to experience VR immersion from the forefathers, the forerunner of the new era in which we're presently sitting.The Oculus Rift is one VR headset that set a cornerstone. Thanks to Oculus' first attempt at creating what has now become known as virtual reality, we can enjoy VR games, movies, video clips and what not. It has a sleek home menu, and the headset automatically goes on or off whenever you put it on or take it off of your head.
Check the price of the Oculus Rift headset. Keep in mind that the controllers are sold separately.
Oculus Rift – Pros and Cons
Pros
[su_list icon="icon: plus-circle" icon_color="#23a006″]
The Oculus Touch controllers offer astounding finger and hand movement and physical buttons for traditional games.
The Oculus Rift headset is compact and has an ingenious design.
Powerful software library with lots of apps and games to explore.
[/su_list]
Cons
[su_list icon="icon: minus-circle" icon_color="#a00e06″]
The constellation cameras don't offer full room scale.
Adjusting the controls takes some time
The total cost of the headset and controllers is hefty. Almost as costly as the full HTC Vive entire pack.
[/su_list]
Oculus Rift – Design and Requirements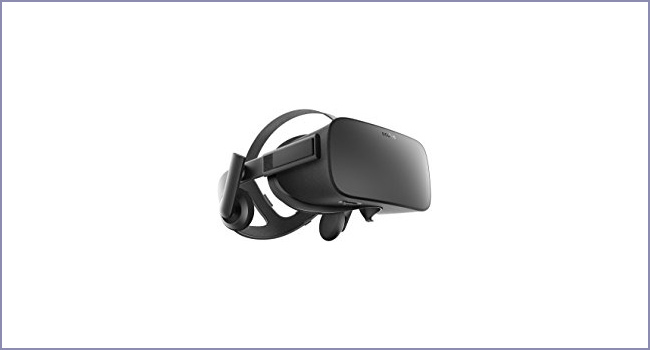 Oculus Rift is the sleekest looking and comfortable to wear VR headset out there. It's very easy to wear, even easier than the HTC Vive headset. Even more so, the Oculus Touch is the most ergonomic and can be wrapped around your wrist. This allows you to literally let go of the controller when, in a game, you pick something up and then throw it away.
The only downside of this entire structure is the fact that the constellation cameras do not offer full room scale mapping. That will mostly restrict your mobility within the VR games – whenever there's a situation. It has a Guardian, mostly like the HTC Vive's Chaperone system, which will pop-up a wall in front of you whenever you're about to leave the game area.
There are two more notes to remember: the Oculus Rift benefits from access to both the Oculus Store and SteamVR. However, this must be taken with a grain of salt. The reason is because publishers may focus on either one of these platforms, and the controllers might not be recognized in one of these two platforms. So, as such, caution is requested. Do some research before buying a game from one of these stores.
The other note is that you need a well and powerful computer or laptop. You need an HDMI port and roughly 3 USB-3 ports and 1 USB-2 port to connect the cameras, the controllers and everything else. The laptop/ computer unit must be top-notch, or else it won't be able to render quality for the games or render the video quality needed. We recommend using a benchmark test to see if you're technically suited up for VR experiences or not. You can find one such a benchmark on Steam Store.
Oculus Rift – Controls & Display
As said before, the rendered display of the Oculus Rift headset is 2160 x 1200. That means 1080 x 1200 per eye. It has a refresh rate of 90Hz, which makes sure you won't get motion sick or experience any lags in video rendering.
Unfortunately, the Oculus Rift VR is not capable for full room scaling. It can offer a 360° motion detection, but for a rather confined space. Roughly 7 x 4 feet. Luckily, the games have a design specifically made for this type of situation. The games are split into 3 categories: comfortable, moderate and intense. This is to say that the level of movement intensity is either very low, mild or hardcore.
The Touch controls from Oculus Rift offer haptic feedback. And the ingenious fact that these controls can be wrapped around your wrists is an awesome feat. Oculus Rift's Touch controller senses finger position, whether your fingers are pressing the triggers or not, and it senses the buttons on which your fingers rest. For example, raising a thumb off the controller can make your virtual hand make a thumbs-up, and extending your forefinger will make your virtual hand point. All the while, the analog buttons will surely be handy whenever there's a classic, arcade-like game to play.
The controllers are not fully analog finger-sensing. Still, moving your forefinger, thumb and middle finger can create hand gestures that feel like real grasping. Finally, the controllers use AA batteries – one per controller – which are easily placeable in via a magnetic cover.
Oculus Rift – Setup
The setting up of Oculus Rift is intuitive and simple. As mentioned above, you first have to connect the controllers into USB-3, USB-2 and HDMI port on your computer/ laptop. Make sure you have plenty of available ports. AAfterward, download the Oculus setup software on your PC. The software will walk you through the few steps necessary to get going. Sync the remote by pulling out the battery tab and pressing a button. Finally, pair the Xbox One wireless gamepad with the receiver. Once these steps are complete, you can slip the headset on and jump into the Oculus software.
Here, you can play any available software on the Oculus Store. Either this or keep going without any hassle. If you set the Oculus software to load apps from other sources ("unidentified sources"), you can get your Oculus headset to work with SteamVR, which is essentially the one with which HTC Vive users work. Once the Oculus Touch launches you can use all SteamVR games that support motion controls with the Rift. Keep in mind that they register as HTC Vive motion controllers when you set them up for Steam. It is said that the controllers work flawlessly with Vive-compatible games. Remember, take this with a grain of salt.
Speaking of which, if you're interested to see what the HTC Vive is all about, read our review and see for yourself.
Oculus Rift – User Experience
Users of the Oculus Rift are overwhelmed by the sheer sensation of VR immersion. They're most impressed by the quality of video rendering, the attention to detail that Oculus has put in developing the games it offers.
Of course, there are others who do not appreciate the Oculus, stating that it does not have any kind of superior resolution and that they prefer Oculus' direct competitor, HTC. But, as is the case in general, it is up to every single one to appreciate the true nature and capability of any given tech piece.
Bottom Line
Yes, the Oculus Rift VR is a one of a kind VR headset. Although it does not stand up to the HTC Vive, it is not far from it. All it needs are some small improvements for the full room scaling. And once this is done, it will sit exactly where it was meant to be. After all, it is the forerunner of all that VR in itself implies.
If you've experienced first-hand Oculus Rift sensations, let us know. Also, if you have a different opinion, a suggestion or a question, don't hesitate to contact us. And subscribe to our Pro Best VR newsletter for the latest reviews in terms of VR headsets.