*This post may contain affiliate links. As an Amazon Associate we earn from qualifying purchases.
The Pasonomi VR headset is supposed to serve the casual market, and it serves that market quite well. So anyone who wants something that just works well without too much configuration will love it. This makes it perfect especially for those who just want to stream 3D movies.
If you want a headset that you can just pick up and pop your phone into without having to give it too much thought, then the Pasonomi might be for you. We took a closer look at how the Pasonomi works to help you make a better purchasing decision.
Pasonomi VR Headset – Specs
| | |
| --- | --- |
| Headset Type | Clamshell 3D virtual reality headset |
| Resolution | 720×1080 |
| Field of View | 102° |
| Sensors | Ergonomic three-dimensional optical sensors |
| Controls | OD & FD adjustment dials |
| Platform | Google Store and Apple Store |
| Amazon Rating (out of 5) | 4 |
| Our Rating (out of 5) | 3.8 |
The special T-shaped band and soft foam face pad allow you to mount a much heavier phone in the clamshell than normal without experiencing any sort of neck pain. This also allows you to wear the headset longer without experiencing discomfort. The adjustable mobile device mount means that more than likely every phone in your household should work equally well with it.
Both dials turn easily so you won't have to worry about images being out of focus, but the lenses sometimes do seem rather pixelated. Some users have complained about dizzy spells as a result. The lack of a magnetic button makes it difficult to play games. Pasonomi devices have proved extremely popular with fans of 3D movies, so this isn't too much of a loss.
Pasonomi VR Headset – Pros & Cons
Pros
[su_list icon="icon: plus-circle" icon_color="#23a006″]
Extremely affordable compared to other models
Comfortable bands and foam frame construction
Easy configuration and adjustment makes it perfect for new users
Provides support for proprietary Apple technology
Supports a wide range of phones and includes clips to adapt to different sizes
[/su_list]
Cons
[su_list icon="icon: minus-circle" icon_color="#a00e06″]
Lack of a magnetic button makes it inappropriate for gamers
Foam padding eventually wears away
Some users find that the lens configuration causes motion sickness
Cannot adjust the VR headset electronically
[/su_list]
Pasonomi VR Headset – Design & Requirements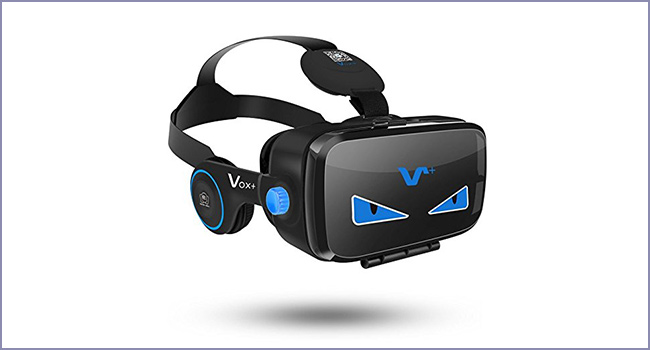 [su_button url="https://www.amazon.com/dp/B01N6NOT1S/?tag=probestvr.com-20″ target="blank" style="flat" background="#f40616″ size="6″ center="yes" radius="0″ rel="nofollow"]Check Prices[/su_button]
The Pasonomi headset is probably the only VR head mount on the market made with all recyclable ABS materials. This eco-friendly design sets it apart from other entry-level VR headsets. All the while, ABS plastics are much lighter than the dense materials other companies use. Aspheric optical lenses have become a sort of industry standard, and Pasonomi's engineers didn't skimp when it came to the lens' structures.
They resemble corrective lenses, but they're not doped with any sort of color filter. You'll need to choose the generic headset option to run most apps because the Pasonomi hardware doesn't work with the QR codes many apps need to download the right drivers. And take note, the VR headset works only with the following mobile phones: Apple iPhone 7, 7+, 6s, 6+, 6, 5, Samsung Galaxy, Huawei, Moto, and other third-party Google Android devices.
Pasonomi VR Headset – Controls & Display
A single turn of a button is all you need to adjust how wide images appear in front of your eyes. You'll also be able to adjust the perceived distance that way. This is useful for it adapts to all kinds of face physiognomies.
The display controls stay put after you set them, and they won't change even if you leave your headset out for a long period. You should find that you're able to adjust the focal distance from 55mm to 75mm. Pushing the button into the frame can help you stretch an image out if it looks somewhat strange.
Pasonomi VR Headset – Setup
You'll need to find your own 3D apps to test your new headset since it more than likely that it doesn't come with any configuration software. Search the app store for any 3D virtual reality apps that have a generic version. Download one and then try setting the controls to get a good feel for what the images look like. Once you have it configured just right you should find that you won't need to change things too much when switching to other apps. Google Cardboard software might also work with this head mount.
It's very easy to adjust the headset lenses with a simple turn of two dials. Users make all adjustments with these manual dials, which means you won't have to worry about electronic calibration.
Pasonomi VR Headset – User Experience
Those who are content with the Pasonomi VR headset say that it feels sturdy and well built. Their only complaint is that there are not that many apps to install for use. Compared to the quality–price balance, they have nothing to complain.
However, those who criticize it say that it is cheap, of low-quality and that their experience was not that which they were expecting. One main reason can be that out of focus images can cause dizzy spells. And this is one of the biggest complaints Pasonomi users have about this particular model of headset. Some people have also reported that the foam around the edges eventually wears off.
Bottom Line
You won't like the Pasonomi head mount if you're a gamer, but it's an ideal choice for people who are looking for something to watch movies with. If you don't want to go through tons of configuration settings and just want things to work the first time you try them, then this is the VR set for you.
Power users might not be comfortable with the simplistic design, but customers who want to get their feet wet with new technology should have plenty of fun with their new headgear. Now, if you have something to add, let us know. All those who have questions, don't hesitate to ask us and we will reply. And, as always, subscribing to our newsletter will make sure that you receive the latest reviews on Pro Best VR.