*This post may contain affiliate links. As an Amazon Associate we earn from qualifying purchases.
The PiMAX 4K VR headset is geared toward users who aren't afraid to pay a premium to get the best that the VR industry has to offer. It provides the sharpest image quality in its class while offering users an incredible surround sound experience through a pair of attached headphones. SteamVR and Oculus games work perfectly with the device. So it's one of the few headsets that have an official certification to work with both of these platforms. Users had a great deal to say about PiMAX's latest offering, so we decided to take a closer look.
PiMAX 4K VR Headset: Specs
| | |
| --- | --- |
| Headset Type | Premium 3D VR headset |
| Resolution | 3840×2160 |
| Field of View | 100°-120° |
| Sensors | 1000Hz gyroscope, range, light, acceleration and magnetic sensors |
| Controls | Volume and settings buttons |
| Platform | Windows 7 – Windows 10 |
| Amazon Rating (out of 5) | 2.5 |
| Our Rating (out of 5) | 2.9 |
Users have noticed that this new offering from PiMAX provides a lower resolution compared to their older model, but they've increased the refresh rate at the same time. This ultimately increased the pixel depth while also improving the sharpness of images. Some users don't care for the lack of a physical focus dial, but the PiMAX 4K usually stays in focus without having to use one.
The patented 4K panel doesn't use the same full persistence technology that most companies rely on. This new panel prevents ghost images behind the area of focus, but some users feel that this advanced functionality just isn't worth the price as PiMAX products tend to skew toward the expensive side of the spectrum. Gamers don't really have many other options, though, as this is one of the few VR units that support Oculus as well as SteamVR.
Pros & Cons
Pros
[su_list icon="icon: plus-circle" icon_color="#23a006″]
Extremely clear picture and sound
It has support for all major VR gaming platforms
It is lighter than most other VR headsets despite the patented additional screen
The external sound jacks are compatible with virtual 5.1 sound systems
The headset still works even if you're nearsighted or have astigmatism
[/su_list]
Cons
[su_list icon="icon: minus-circle" icon_color="#a00e06″]
Compared to the competition, it is quite pricey
Maximum resolution is lower than that of previous models
It has reduced amount of nose padding from previous models as well
It has difficulties in using VorpX technology, which limits usefulness for Skyrim players
[/su_list]
PiMAX 4K VR Headset: Design & Requirements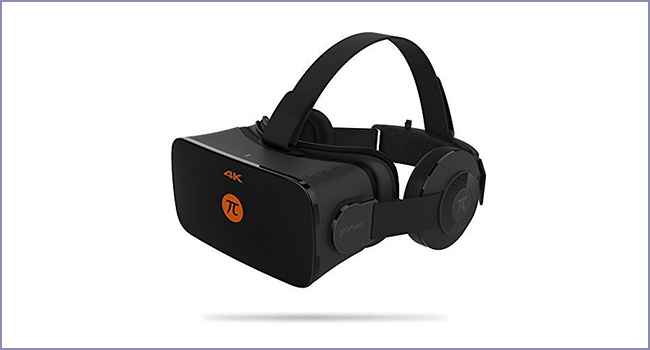 [su_button url="https://www.amazon.com/PIMAX-Virtual-Reality-Headset-Computer/dp/B01N9PU3NF/?tag=probestvr.com-20″ target="blank" style="flat" background="#f40616″ size="6″ center="yes" radius="0″ rel="nofollow"]Check Prices[/su_button]
Many users compare the physical appearance of the PiMAX 4K headset to a pair of headphones with a View-Master attached to the front of it. It certainly does look odd, but the unusual design keeps pressure off the nose and eyes. Unfortunately, PIMAX's engineers thought that this meant they could use less padding around the nose bridge, and some users find this rather uncomfortable.
It provides support for all PCs with Intel i5 and better microchips but requires users to run Windows 7 or higher. The headset supports all Nvidia GT X960 and AMD R9 290 graphics adapters. There's no support for games and home media players that work with Linux or macOS Sierra.
PiMAX 4K VR Headset: Controls & Display
The headset uses an HDMI 1.4B video output cord coupled with a standard USB port to interface with your PC. This makes most controls unnecessary, since the HDMI interface uses measured feedback from the included sensors to adjust to your pupil distance. It can self-adapt anywhere between 58-71 mm, and it supports around 500 degrees of myopia without eyeglasses.
You can, however, adjust the volume easily with the included buttons on the top of the unit. Most other controls simply respond to the standard controls in Windows. As such, this makes it very easy to learn how to use these VR goggles.
PiMAX 4K VR Headset: Setup
Since the PiMAX 4K goggles are compatible with the USB 2.0/3.0 standard, you might not need to do much more setup besides plugging them in. Users who can't get them to sync right away may have to roll back their video drivers. Especially if they've recently had an upgrade. If you've already installed the SteamVR and Oculus apps, then there's not much else to configure on any modern version of Windows. Some users of Windows 7 like to go back to the older Windows 95-style window controls to save some graphics memory. You won't see these controls when you're using the goggles.
PiMAX 4K VR Headset: User Experience
It's somewhat difficult to gauge the PiMAX 4K's user experience because it's so drastically different for different users. Some people report that it works right away after plugging it in while others say they have video driver problems.
Those that get it to work instantly consistently rate it as one of the best when it comes to playing online games. And those who don't often have to get in touch with customer support.
Bottom Line
Most users won't need a VR helmet that's as sophisticated as the PiMAX 4K, which means they'll be looking at far less expensive tools. It's designed to fulfill a certain market niche, and it does that job quite well. Serious gamers who want to have the best VR experience their PCs can offer, and who aren't afraid to do some work to get their goggles going, will surely take a look at this headset. Hobbyists and coders will love it too, once they get over the sticker shock.
Leave us your opinions or questions regarding the PiMAX 4K VR headset, and we'll make sure to answer right away. And don't forget to sign up for our newsletter for more Pro Best VR reviews.