*This post may contain affiliate links. As an Amazon Associate we earn from qualifying purchases.
The gaming stage has seen a shift nowadays thanks to the appearing of the VR gaming headsets. Hello, virtual reality gaming! Be a diamond stealer in the mobster world of London or an alien looking for an ancient artifact. Our review of the PlayStation VR Worlds is for those who are new to the VR gaming scene or who did not test the bundle yet. It features 5 games, each one offering a totally different view of what the PlayStation VR can really do.
PlayStation VR Worlds Overview
The game bundle itself offers 5 games: London Heist, Luge VR, Ocean Descent, Danger Ball, and Scavengers Odyssey. These games have all the potential needed – or some games do – to turn a convinced gamer to embrace the new VR medium that the headsets create.
You can check out the Launch Trailer released by PlayStation below and get a glimpse at the worlds you can explore.
The first game, London Heist, has you playing the mobster. Trying to steal a diamond, the heist goes wrong. And from there on the story goes on. It's a very promising game, though short, which we hope will become a full title game. Danger Ball is a first person ping-pong game. Its sleek visuals are a nice feat. Unfortunately, you play against only 5 opponents and an online tournament mode, which is quite fast to overcome. It lacks a multiplayer mode, which is kind of a drag.
The third and fourth ones, Scavengers Odyssey and Luge VR, are a total hit & miss in this PlayStation VR Worlds bundle. The former, Scavengers Odyssey, can even make you motion sick, depends on how sensitive your body is. While kind of bland and linear, the worst part is that it ends on a cliff-hanger note. That's annoying because most certainly there won't be a sequel. Luge VR, is a virtual you on a luge plummeting at high speed on the road. Dodge trucks and cars, and other obstacles by moving your head. However, that won't necessarily be the case. And that's because it doesn't quite matter if you avoid them or not, your speed won't increase.
The last one, Ocean Descent, is a very interesting trip into the, well, depths of the ocean. The graphics are amazing, though there's practically no interaction between you and the medium in which you find yourself. It has three episodes of exploration, the final one involving a White Shark. Its meditative and awing graphics make it a total get-me-out-of-here experience. It is worth it, trust us.
PlayStation VR Worlds – Specs
| | |
| --- | --- |
| PlayStation VR Worlds | Demo Disc Bundle |
| Lowest Price | $32.36 |
| Gameplay Duration | Approx. 30 minutes per game |
| PlayStation VR Worlds' Amazon Rating | 4.2 stars |
| Editor's Rating | 4 stars |
| Platform | PlayStation VR headset + DualShock 4 controllers |
The bundle in itself is promising. Its stars are London Heist and Ocean Descent. The other ones are too uneven, being promising, yet missing a few bits and parts to truly shine. London Heist puts you in the character of a mobster and you must fight your way through the dangers and perils of London's underground world. You shoot, you kill. You talk with your partners in crime and you also interact with them. While Ocean Descent offers you an amazing and stunning imagery within the depths of the ocean. Now that is something everyone would or should experience.
The PSVR bundle, on Amazon, is somewhere around $40, in a digital edition. Or $35.96, if bought new. Shipping is free.
Pros
[su_list icon="icon: plus-circle" icon_color="#23a006″]
Strong diversity of games
Well-designed graphics
In-game mechanics are refined and work well
The London Heist
[/su_list]
Cons
[su_list icon="icon: minus-circle" icon_color="#a00e06″]
Each game lacks duration in terms of gameplay time.
Most of the games are not replayable.
VR Luge
[/su_list]
PlayStation VR Worlds – User's Experience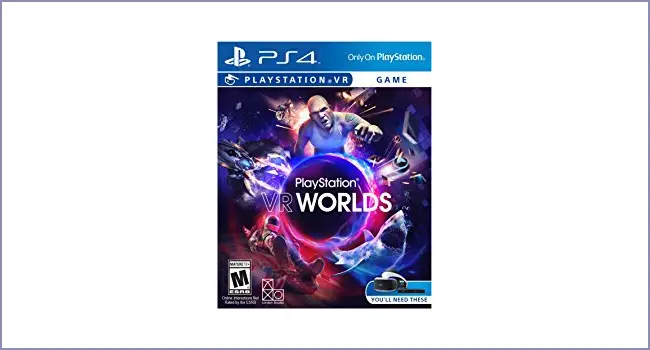 [su_button url="https://www.amazon.com/Worlds-PlayStation-VR/dp/B01I5S8V9A/?tag=probestvr.com-20″ target="blank" style="flat" background="#f40616″ size="6″ center="yes" radius="0″ rel="nofollow"]Check Prices[/su_button]
Those who bought the game were overall satisfied. The in-game immersion was felt as genuine, that is thanks to the Sony PlayStation VR headset, which does its job very well. There are however two main categories: those who liked the bundle overall and those who totally disliked it.
The first category loves the attention to details that Sony's London Studio placed when building the games. The favorites are London Heist and Ocean Descent. Firstly, and mainly, due to the high-level of action and VR FPS game for the heist game. The other one, thanks to its calmness and the awing sensation it offers to those who play it. The second category of reviewers does not like the graphics, stating that it felt more like PS2's graphics. The main problem was that they felt disappointed by the games and the company itself. Nonetheless, caution is necessary as tastes are not debatable.
Are you still doubting if these games are worth your time? Well, you can read all about the Sony PlayStation VR headset.
If by then you think that it is too expensive for you, we recommend the Google VR headset or Samsung VR headset for mobile phones.
Or, if you think that these are not powerful enough, the HTC Vive VR headset is atop of it all.
Bottom Line
Our final verdict is that while the PlayStation VR Worlds is an enticing and very promising bundle of games it is lacking in some other areas: first, the games are too short in terms of play time. Not more than 30 minutes per game, the bundle paves the way for those who are curious about the VR world or for those who want to test it and see how it works. PlayStation VR Worlds' stars are London Heist and Ocean Descend, which will offer you – as said – a one of a kind gaming experience.
Tell us about your experience with these games. Or, if you haven't had the occasion to play, ask us any questions that you might have and we'll answer to them.