*This post may contain affiliate links. As an Amazon Associate we earn from qualifying purchases.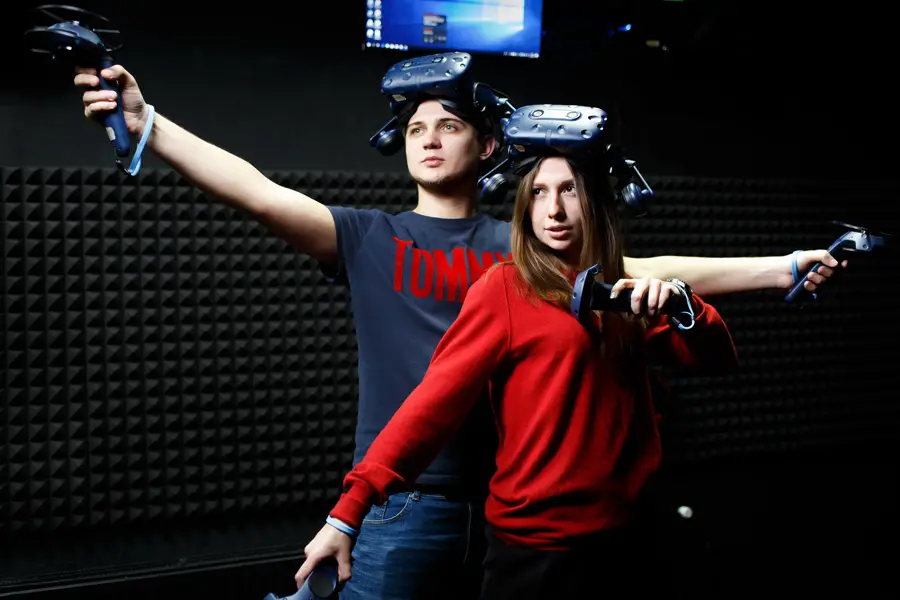 ​Image Source: Unsplash
Ever since the beginning of the video game era, companies have been trying to create a virtual reality experience for their consumers. Even though the first manufacturer to make such a system wasn't Sony, PS4 VR games are usually the most appraised titles among the gaming industry. Today we will review in-depth what we believe are the best 10 of them.
Today you'll read our review on some of the best PS4 VR titles. VR games are relatively new, for those who don't pay close attention to the gaming world. We tried to include all kinds of games so that every one of you will have something to look forward to. Let's look at those games. We are sure there is something for everyone on our list.
​Comparison Table
[amazon box="B07FWG1KC6, B074H2ZM5B, B07D2XN5XS, B01GWB19IW, B07CTYVKZ1, B01GWB1GM6, B071WPKZ8F, B075VVPN1K, B072QW4JY1, B01M1EOIJ0″ template="table"]
​Product FAQ
​1. What Are PS4 VR Games?
Instead of being displayed on a flat monitor display, PS4 VR games take advantage of the whole three-dimensional spectrum, allowing the player to look around whenever he wants to without the need to do it using the controller. Instead, he can do so by just moving his head while wearing the VR headset. This enhances the realism of the game by providing a brand new way of experiencing video games and interacting with them.
2. Can I Play Them on Any PS4 Console?
The short answer is yes. Since the mechanics needed to run the game in VR are located inside the actual VR headset, you'd be able to play them on any PS4 console including the original, Pro, or the slim edition.
​3. Do I Need Something Other than the PSVR Headset?
As Sony has stated multiple times, almost the entire PS4 VR game library can be played using the standard DualShock controllers. That being said, specific games like Beat Saber, for example, would require the move motion controllers or other accessories.
​4. Will Every PS4 Console Run Them?
To be honest, not exactly. Yes, every PS4 console will run VR games but the resolution and fps each one achieves vary, with the Pro version offering the best experience.
​5. How Realistic Are PS4 VR Games?
This would mostly depend on each game's design style. Some go with the standard AAA graphics, meaning explicitly detailed graphics, while others go with a cartoonish feel. In reality, the PSVR headset can handle up to 120 fps. Most games won't go that high, especially if you are not using the PS4 Pro that provides better anti-aliasing on supported titles making them less blurry and achieving a higher frame count.
​How We Reviewed
Instead of just choosing the top 10 best-selling PS4 VR games we went with the titles we found the most entertaining to play. This doesn't mean that you won't be seeing favorite games in our list though. As we already mentioned before, each game has its artistic style, so some users will find them more appealing than other titles. We tried to aim reasonably, so we ran a small survey on the office where each one had to go over a list of 20 games. After that, we individually made a personal top ten list, and the games with the most votes are the ones featured in this article.
Overall Price Range
As you'll soon find, out PS4 VR games are very reasonably priced. That being said, we will state the fact they are overpriced if we believe so. Keep in mind that for games, you can't know for sure that a more expensive game will be better than a cheaper one. This is based on each user's personal preferences. That being said, most of the games we chose are priced somewhere between $ and $$, with some minor exceptions that cost $$-$$$.
​What We Reviewed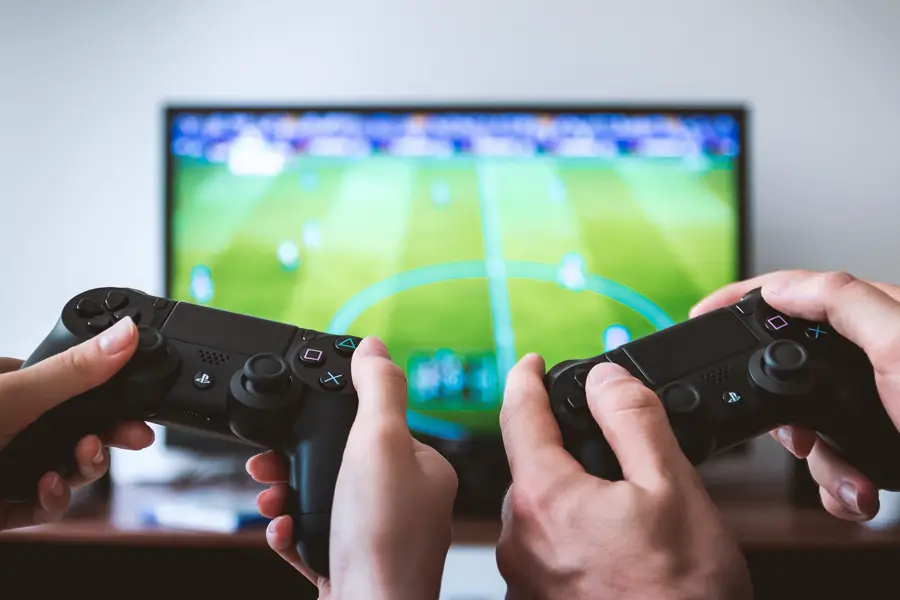 ​Image Source: Unsplash
​ASTRO Bot Rescue Mission

​VR Karts

​Zone of the Enders: The 2nd Runner M∀RS

​Eagle Flight

​Moss
​Star Trek: Bridge Crew

​Skyrim VR

​ATV Drift & Tricks

​DOOM VFR

​Eve: Valkyrie
ASTRO Bot Rescue Mission
[amazon box="B07FWG1KC6″]
Features
Remember those cute little robots you could use to play the mini-games in the pre-installed Playroom feature? Well, if you do, then you'd be happy to find out that these guys are making yet another appearance in their new game called ASTRO Bot Rescue Mission. You're, well, the mission is to use one of these as your main character and travel through a platformer-like 3D world trying to rescue the others, but this isn't all, let's talk more about the game.
Kicking things off with the game play style, the game is divided into multiple levels. On each of them, you must find and rescue 8 of your buddies, but don't stress over the fact that you are going to miss some because, believe us, you will do so. Even then, the game will not limit your experience as it will allow you to move on to the following level. You can always come back and give the level another try to collect them all. This makes the game replayable, which is something fairly rare in today's video game industry.
Moving on to the mechanics, even though the user can freely look around, his visibility will be reasonably limited at times. For example, the allowed turn-factor of your perspective changes all the time so you can quickly move your ASTRO bot around. Keep in mind that, although we are talking about a casual game, there still are enemies trying to stop you from saving your friends. The fighting mechanics are almost identical to what you'd encounter playing a Super Mario game. You can jump on their heads to squish them or spin around to extinguish them.
But this isn't all. As you progress throughout the game, you will come across a few somewhat hidden rooms. Once you enter a printer-like machine will prompt you to place your controller in a compartment. After doing so, the player will use a new feature. Our favorite has to be the grappling hook which you can activate by swiping your finger up on the DualShock controller's touch module. You can also use your head to bash through walls by pushing forwards.
Regarding our own experience, the game is as entertaining to play as it is to watch when someone else is trying it. Our favorite aspect, though, has to be when the rescued robots jump off the map and land on your controller, "entering" their home inside the touch module. Last, even though many people found it childish at first, you will enjoy it no matter what your age is.
PROS
Can be replayed

Uses both the headsets and the controller's movement tracking features

Suitable for all ages
CONS
Limited perspective

The idea behind the game isn't original
Graphics
The artistic style is very similar to that of an animated show. It may remind you of the game Little Big Planet as it features some very identical mechanics and visual effects. That being said, the game looks fantastic in VR and is easy to run with enough fps to be enjoyed with no feel of lagging.
Price: $$
This product can be found on Amazon for around $$.
Where to Buy
[amazon fields="B07FWG1KC6″ value="button"]
VR Karts
[amazon box="B074H2ZM5B"]
Features
Why would a game that received a 42% rating on Metacritic appear on our list, you may wonder? Well, bare with us and keep on reading and you'll soon find out. Starting, let's address the elephant in the room. The game is without a doubt a Mario Kart rip-off as almost everything, including the game play, the mechanics, and the artistic style are identical to the popular video game title we know and love.
That being said, let's start with the game play. The first thing we have to say is that we wouldn't bother purchasing it if we wanted to play it in single player mode. Doing so, the game quickly becomes dull. You'd have the best time if you played it with your friends in a private lobby or at least on multiplayer mode with other users worldwide. Moving on to the driving aspect, the game feels smooth with no sign of lag. This is one of the main strong points that made us include it on the list. Other than that, speeding up, steering, and crashing (or just bumping onto your friends to make them rage) are all designed with balance and no exaggeration in the slightest.
The mechanics and the art style are identical to a Mario Kart game. Each track follows the same cartoon-like sprites such as forests, desserts, mountain-side, and other favorite layouts found in similar titles. The way each map is made can become boring quick unless, as previously mentioned, you were to play it with other people online.
Then you have the customization options, which is where the game lacks the most. Think about it. What did Mario Kart do better than similar titles? It allowed the player to choose a specific character that had special powers and different in-game mechanics than the others. VR Karts is nowhere near that. Yes, you can still customize the colors of your racing suit and helmet and that of your kart, but this is where it ends. You can't select or even purchase a different vehicle.
Last but not least, we'd like to mention that, even though the game is enjoyable to play with friends, it serves the sole purpose of pure entertainment. There is nothing more to it than racing. So don't expect to get an exciting storyline because something like that doesn't exist in VR Karts.
PROS
Fun to play with friends

Good and balanced mechanics

Easy to run with a high frame count
CONS
Quickly becomes boring if played on single-player mode

Mario Kart rip-off
Graphics
​As we already stated, the graphics are straightforward to handle by the PS4 console, and you wouldn't need the Pro version to get a smooth gaming session. Regarding the design, the game couldn't look more like Mario Kart without probably getting sued by Nintendo.
Price: $$
​If you want a VR game that builds off of the classic Mario Kart game, then purchase this one on ​Amazon for around $.
Where to Buy
[amazon fields="B074H2ZM5B" value="button"]
Zone of the Enders: The 2nd Runner M∀RS
[amazon box="B07D2XN5XS"]
Features
This isn't the first time Zone of the Enders has appeared on the PlayStation, and it is likely that it won't be the last either. In case you haven't heard of the game before, it is a third-person action game with hack-n-slash and shooter combat features. This is a re-mastered version of the original game's sequel published back in late 2003.
The storyline follows the adventures of Dingo Egret, who works as a miner in Callisto, one of planet Jupiter's moons. He discovers the hidden Jehuty orbital flame and then BAHRAM forces come to seize it. This is where the fun (or fighting) begins as you control Dingo Egret to fend off the attackers. The plot thickens as you move on, but we wouldn't like to ruin it for you. You should know the story takes place in the year 2174, just two years after the first game.
Regarding the mechanics, having played the original title on PS2, we can say the developers did a fantastic job. The visual effects, the fighting, even the soundtrack have all changed for the better. This is where the PSVR comes into play. The player can now experience the game from a cockpit perspective inside the Jehuty while also being able to check out his stance on the lower right of the orbital flame's UI and his health points, shield, etc.
We say, even though the player can experience the full 360-degree spectrum, the VR aspect is partly ruined because of the cut-scenes as they interrupt the reality factor. That being said, the game still feels and performs amazingly with PSVR without lagging. And because we know you are about to ask, yes, you can skip the cut-scenes to get back in action ASAP.
PROS
​

A beautiful re-mastered version of the original

​

Cut-scenes can be skipped

​Brand-new FPV
CONS
​

Since this is a re-master of the original title, it technically isn't a new game

​

Cut-scenes interrupt the realistic first-person factor
Graphics
​The graphics are the same as the original game's but have been re-mastered, meaning that on top of getting an incredible visual experience; the game has been optimized to perform smoothly on any PS4 console.
Price: $$
​Give this VR game a try after finding it on Amazon for around $$.
Where to Buy
[amazon fields="B07D2XN5XS" value="button"]
Eagle Flight
[amazon box="B01GWB19IW"]
Features
Who doesn't love simulation games when they are done correctly? Eagle Flight may not be very realistic on some of its aspects, but the developers sure created a mesmerizing visual and enjoyable gaming experience.
In Eagle Flight, the user controls an eagle from a first-person perspective, meaning that when you speed up or focus on a specific object or enemy, your field of view will get decreased because of the increased speed of flying. The game takes place in an abandoned Paris where the player, or better put, the eagle, has to defeat potential hunters and prey on other animals to survive.
The game has a 4-hour campaign, but there are a few mini-games you can try out in the single player mode and online against other users. This is where it gets tricky, though, because veteran players who have already played the game countless times have adjusted to the mechanics and are very difficult to defeat. Even then though, there is something satisfying when you fly and try to kill other birds.
If there is one thing that subtracts from the realism factor would be the attacking mechanics. Instead of snapping onto enemies using your beak or claws you create a ball of wind which, if you land it successfully, kills the enemy. There is a cooldown time between doing that so make sure you don't spam it because if you are a second late, you'll most likely get killed by an enemy.
Before we move on to the next game, we'd like to mention how well Eagle Flight takes advantage of the VR headset's features. Instead of using the controller the player can look around to adjust his perspective and tilt his head to turn. And no, it somehow doesn't make you nauseous even when playing for a long time (+2 hours).
PROS
​

Incredible mechanics

​

Great multi-player mode

​Beautiful graphics
CONS
​Expensive

​

PVP is very competitive because of the lack of other modes
Graphics
​You could refer to Eagle Flight's graphics as a combination of a AAA title and an early 2000s game. Yes, the game is easy to run and features a beautiful open map, but it still isn't as detail-heavy as some users would like. We found it well-balanced though.
Price: $$
​Eagle Flight is a VR game you can search for on Amazon for around $$.
Where to Buy
[amazon fields="B01GWB19IW" value="button"]
​Moss
[amazon box="B07CTYVKZ1″]
Features
Out of all the PS4 VR games in this list, Moss was probably our absolute favorite. The game gives the user the control of Quill, the female mouse protagonist of the game. Starting with the game play, it'd be wise to let you know you control the game in a first-person nature but not from inside Quill. This gives the game a look and feels similar to that of reading a children's book.
The game starts with you, the user, going through some old books in a library which is where you find a magical book that transports you to the land where the little mouse lives. Sarffog, a snake that breathes fire has taken over the world and abducted Quill's uncle. Your mission is to explore this world the world and defeat the evil snake to save her uncle.
Regarding the design of the game, everything looks fantastic, even in that cartoon-like manner, and the visual experience the game offers couldn't be described with a word other than magical. Moving on to the fighting mechanics, Quill will encounter lots of enemies with varying powers. Even though the combat system isn't hard to grasp on, the game raises the difficulty as you go on by making you fight with more enemies simultaneously rather than presenting new and harder ones.
Adding to the combat mechanics, you will need to use your intellect to solve clever puzzles sometimes even while you are controlling Quill who is fighting with other enemies. This takes the game to a whole different level by providing a brand new style of playing. It feels like you are playing in co-op mode, but there is only one player controlling everything, and that is none other than you.
PROS
​

Intuitive control mechanics

​

The right balance between fighting and solving interesting puzzles

​

Original idea
CONS
​

Because of the PS4 VR's camera's limited perspective, you may need to recalibrate every occasionally

​

The story seems to end, so a sequel is unlikely
Graphics
​You could refer to Eagle Flight's graphics as a combination of a AAA title and an early 2000s game. Yes, the game is easy to run and features a beautiful open map, but it still isn't as detail-heavy as some users would like. We found it well-balanced though.
Price: $$
​If you're looking for a fun puzzle game, you can purchase this excellent one on Amazon for around $$.
Where to Buy
[amazon fields="B07CTYVKZ1″ value="button"]
Star Trek: Bridge Crew
[amazon box="B01GWB1GM6″]
Features
Starting with the game play, there are two ways you can experience the game with the first one being the campaign and the second is a random mission mode where you can join other players online. We found the campaign pretty well designed as the plotline is interesting and takes you from one battle to another, so the action factor is virtually unlimited but without becoming dull thanks to the proceeding story.
Moving on to the graphics, even though the game doesn't throw the most sophisticated and detailed "polygons," as a designer would say, at you, it still pictures the traditional color palette and hue of the Star Trek movies. You can even visit the Starship Enterprise (one of the main reasons people have bought the game). The inside of the starships reminded us very much of the original movies and tv series. Everything has this traditional look including the control panels with the multi-colored buttons instead of the minimal modern-day design where everything would have a shade of black or gray.
Regarding the mechanics, the game couldn't be any better. Starting with the combat, the player can easily navigate through the weapon systems using the main console and can even reroute energy from secondary parts of the starship to provide a power boost whenever that would be needed. When the starship takes damage, also when the player eventually repairs it, everything is logged, so the game provides a subtle reminder of past failures which we found interesting.
PROS
​Enjoyabel Storyline

​

Easy to learn but hard to master

​

The main console gives access to every part of the starship
CONS
​

The multi-player mode can be hard if you are new to the game

​

The interior of the starship doesn't have superb graphics
Graphics
​Last we'd like to take another look at the graphics. Keep in mind this game is one of the most detailed AAA titles for PS4 VR system. If you were to play on PC, you would be astonished by the galaxy's environment, but even when you go with the PS4, the game still looks great with plenty of frames to not be lagging. That being said, we'd like to see better graphics in the interior of the starships as they reminded us of a 2010 game rather than a 2018-2019 title.
Price: $$
​If you're looking for a fun puzzle game, you can purchase this excellent one on Amazon for around $$.
Where to Buy
[amazon fields="B01GWB1GM6″ value="button"]
Skyrim VR
[amazon box="B071WPKZ8F"]
Features
So how well does the VR version handle the normal Skyrim experience? Starting with the graphics, we'd say aesthetics isn't the best part of this AAA title. The elder scrolls series have always featured a massive open map with Skyrim being the epitome of the franchise but what happens when you transfer this to the virtual reality world isn't as great as you'd expect.
The game play remains enjoyable, but it can be pretty frustrating. This happens because of the game's hard controls. Even when using the PS4's move motion controllers combat can be hard. We found that the best way to go about it is to use spells rather than melee or ranged weapons as the accuracy of the latter is terrible and unpredictable. The moving mechanics are excellent as you can easily travel through the map and while there is an option to teleport instead of moving in-game, we believe takes a toll on the whole VR immersive experience.
It may not make a huge difference or any difference at all, to be honest, but you can't move your enemies' corpses around, which sure makes the game boring after a while. It's gratifying to play Skyrim VR now and then, but we wouldn't recommend it for daily gaming sessions. Better stick with the standard non-VR version if you want a bug-free experience. But who are we kidding, this is Bethesda we are talking about here. All their games are filled with bugs and funny glitches one of our secret gaming pleasures.
PROS
​Moving around easily

​

Can be played using the PS4's move motion controllers

​

Good for a short and fun gaming session
CONS
​

The majority of the graphics are blurry

​

Your fighting-style choice is limited because of bad mechanics in certain weapons
Graphics
​The majority of the environment is reasonably blurry, which is the only way for the console to achieve a steady average of 90 fps. Although this takes a lot from the discovering experience, the battle sure has its pros as the particles, and visual effects that are rendered in front of you when fighting a dragon or other magical creatures look much better than the rest of the game's assets.
Price: $$
​Skyrim VR is a popular choice for the adventurous types that can be found on Ama​​zon for around $$.
Where to Buy
[amazon fields="B071WPKZ8F" value="button"]
ATV Drift & Tricks
[amazon box="B075VVPN1K"]
Features
Starting once again with the worst aspect of the game, the graphics, ATV Drift & Tricks doesn't look as good in VR as you'd expect. The game reminded us more of a late PS2/early PS3 game rather than something that came out recently. The colors aren't vivid, and the environment suffers from terrible tearing which results in a lifeless driving track. When you move on to the game play, however, things are much better.
We were surprised by how well the driving mechanics worked in the VR version of the game. Speeding up, steering, and the suspension response were all designed and implemented in an excellent manner resulting in amazing drifting. But drift is only half the name of the game. The tricks are where the game let us down. Yes, you can perform tricks, but they don't look as cool in virtual reality as you'd typically expect. The controls are straightforward to get familiar to as you will use your ordinary DualShock controller. Unfortunately, the PS4's move motion controller's aren't supported in this game.
The sound is where the immersion takes place though. The revving of the bike's engine, the brakes, the sound of dirt being splattered around as you drift into it all sound exceptional and realistic. Moving on to the modes of the game, there are only two, a time attack where you have to finish the track before the timer reaches zero and the hot lap mode which is an endless loop of the map where you can play for as long as you want or at least until you break your track record.
Last, we'd like to go over something we found atrocious, so here it goes. Not all the tracks are unlocked in VR meaning that to gain access to them you must first play the non-VR version of the game and beat the championship mode which reduces the immersion of the game. Why would you make a user who wants to experience VR go through all the stuff he is already bored of? It doesn't even make sense.
PROS
​

Great sound design

​Easy Controls

​

Very smooth gameplay
CONS
​

There isn't a multiplayer mode

​

Individual tracks have to be unlocked by playing the non-VR version

​Graphics aren't vivid
Graphics
​The graphics aren't as good as those of the non-VR Doom version, but they remain crisp and lifelike without becoming pixilated or blurry. It concerned us that lag may be an issue with this game, but that isn't an issue. The game looks reasonably realistic and feels fantastic as it runs smoothly even when using the base PS4 model.
Price: $$
​This VR racing game can be found on Amazon for around $$.
Where to Buy
[amazon fields="B075VVPN1K" value="button"]
DOOM VFR
[amazon box="B072QW4JY1″]
Features
Doom is supposed to be a fast-paced action shooter game filled with gore and blood. Doom VFR successfully made it as one of the absolute best PS4 VR games of its genre. Instead of getting the same game re-mastered to support the VR headset, the developers created a brand new gaming experience from the ground up.
Starting with the gameplay, Doom VFR takes what Skyrim VR didn't do and turns it into reality. The controls are incredibly well-designed, the moving aspect works both by teleporting or moving around freely. The aiming, the dodge mechanics, and the whole combat system are all as balanced as they should be exactly. Talking about controls, you can use the DualShock controller to play and the PS4's move motion controllers and the VR aim controller.
The graphics are pleasing to the eye, and the game doesn't feel like an old AAA title. It legitimately is a PS4 VR game. The visual effects including explosions and shooting your way through hordes of rapidly moving monsters are all beautifully rendered without the slightest sign of lag. If we had to change one thing, it would be the storyline as there isn't one like in the non-VR Doom version. Even then though, the game is entertaining, especially when combined with its hard metal music. It pumps you up making you ready to destroy everything in your sight.
PROS
​Great music design

​

Controls are easy to learn

​Beautiful graphics
CONS
​

Lacks in storyline

​

Not all controllers respond the same to the game's mechanics
Graphics
​The graphics aren't as good as those of the non-VR Doom version, but they remain crisp and lifelike without becoming pixilated or blurry. It concerned us that lag may be an issue with this game, but that isn't an issue. The game looks reasonably realistic and feels fantastic as it runs smoothly even when using the base PS4 model.
Price: $$
​Doom VFR is a fun multiplayer game that can be found on Amazon for around $.
Where to Buy
[amazon fields="B072QW4JY1″ value="button"]
Eve: Valkyrie
[amazon box="B01M1EOIJ0″]
Features
Dogfighting and VR were meant to be together right from the get-go. Eve: Valkyrie is a space combat game done right in VR. Starting with the single player mode, the campaign doesn't have much to offer as it will take you more of an hour to complete. It would be wise to check mini-games though, especially if you are looking to try out the multiplayer mode. The enemy wave mode can be useful for getting practice on 1v1 combat.
The controls are smooth and you'll most likely pick them up quickly. Then you'll be ready to go online and fight other players. This is where things get tricky as players of a higher level have access to better vehicles and will quickly kill you if you aren't careful enough. It is recommended that you stay away of 1v1 combat until you unlock two higher-tier starships and weapons.
The graphics of the game are good with lots of details, but you won't notice any lag. The game has excellent optimization even when running on the base PS4 model. The sound effects and mechanics are both great, but if there is something we could change, that would be the micro-transaction system. This game costs $20, but some players have spent hundreds of dollars and are already far ahead of most non-paying users. That being said, leveling up can take a lot of time. Keep in mind that Eve: Valkyrie is one of those games that require hours upon hours of grinding.
PROS
​

The combat system is well-balanced

​Easy Controls

​Good graphics
CONS
​

Micro-transaction system

​

Hard to level up
Graphics
​The visual effects and animations are all great. The game is beautiful and runs smoothly without lagging or tearing.
Price: $$
​​Eve:Valkyrie is a fun game that can be found on Amazon for around $.
Where to Buy
[amazon fields="B01M1EOIJ0″ value="button"]
The Verdict – Which Is the Best ​VR Games?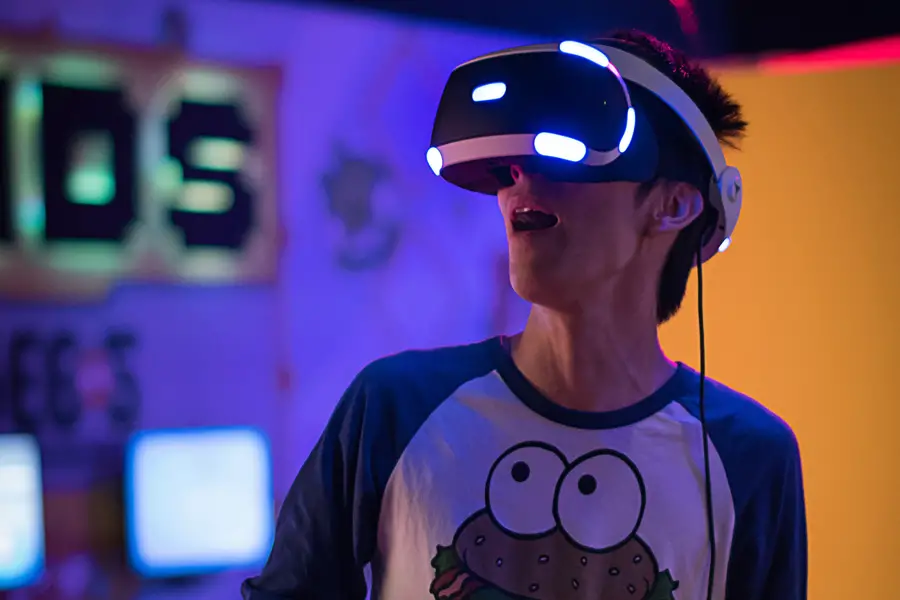 ​Image Source: ​Unsplash
It is difficult for us to choose but if we had to pick, we'd either go for Moss or Doom VFR. The former has a great artistic style and intuitive controls which make it something never seen before, a true original you could say. Doom VFR is the game all those rage-filled teens would enjoy. A fast-paced action shooter will never go out of fashion. This is a perfect game for those that get quickly bored with playing games alone. Both games are true masterpieces when played in VR, and it would be a shame if you didn't at least try them out.Try these VR games out, trade them in, give them to a friend as a gift. Bottom line, video games are fun and enjoyable to everyone. They are the perfect getaway after a rough day at work, school, or if something is bringing you down. Relieve stress for a couple hours with the VR games we have reviewed here. It's always a fun experience to try something new!