*This post may contain affiliate links. As an Amazon Associate we earn from qualifying purchases.
Pyle, a company that traditionally deals in audio equipment, has decided to release a VR headset of their own and cash in on the trend. The Pyle PLV3D15 3D VR headset is that headset. This one falls under the category of smartphone VR solutions, into which you insert your smartphone and use your smartphone screen as the display. This headset is perfect for on-the-go VR and watching 3D videos on your device.
Pyle PLV3D15 3D VR Headset: Specs
Pyle PLV3D15 3D VR Headset Specs
Headset Type
Smartphone VR Headset
Resolution
Depends on device
Field of View
Not listed
Sensors
None
Controls
Comes with controller (not compatible with iPhones)
Platform
Android and iOS Phones
Amazon Rating (out of 5)
3.2
Our Rating (out of 5)
4
Pros & Cons
Pros
[su_list icon="icon: plus-circle" icon_color="#23a006″]
It's pretty cheap.
It's compatible with all devices 4.7-6.0″.
There is no setup required. Just insert your device.
[/su_list]
Cons
[su_list icon="icon: minus-circle" icon_color="#a00e06″]
The included controller won't work with iOS.
It's not the sleekest looking device.
There is no focal adjustment for myopia.
[/su_list]
The device is not the greatest looking thing in the world, but it gets the job done. The headset and controller have a cheap and plasticky feel to them. The controller's buttons feel cheaply designed and easily breakable as well. It's a shame, but it's expected for the cost.
The device itself though gets the job done. The lenses work, and the image is clear. It would've been nice to see them put just a little more attention into the housing for the phone and the fit around the face though.
Pyle PLV3D15 3D VR Headset: Design & Requirements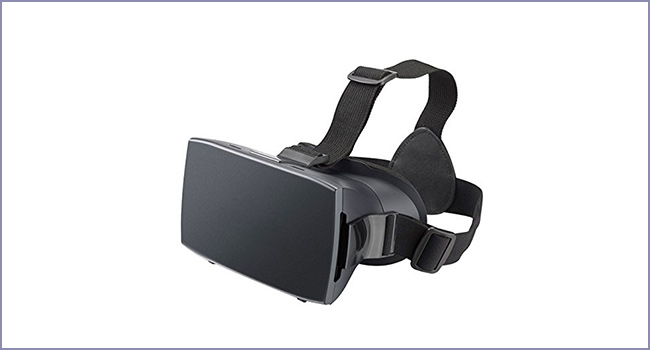 [su_button url="https://www.amazon.com/Pyle-PLV3D15-Universal-Headset-Entertainment/dp/B01GIPC99U/?tag=probestvr.com-20″ target="blank" style="flat" background="#f40616″ size="6″ center="yes" radius="0″ rel="nofollow"]Check Prices[/su_button]
The overall look of the device is nothing to write home about. It looks like a big, black box sitting on your face. The straps look and feel cheap, but for the price, you can't expect too much. The cover that opens to house your phone feels a bit flimsy, and there isn't really any way to secure your phone. This was probably the most alarming detail about this device.
As far as requirements go, you'll need an iOS or Android device of up to 6.0″. You'll also need 3D movies or a VR app like Google Cardboard to find content to use with it. The included controller works only on Android, so iOS users have an additional purchase to make.
Pyle PLV3D15 3D VR Headset: Controls & Display
As mentioned above, there is a provided controller that works on Android only. iOS users will have to buy another controller. There are no controls or sensors on the device at all, but with the appropriate apps, they will be able to use your phone's motion sensors to create head tracking.
The display depends largely on your device for clarity and resolution, but for the headset itself, you mainly want to look at the clarity of the lenses. Does the lens distort the image? Is it perfectly clear? In this case, yes. It's fine. You shouldn't have a problem with the lenses in this device.
The biggest problem with this device is probably the lack of focal adjustment for myopia found on more expensive devices. This means that those with glasses for nearsightedness will probably have issues with this one, as I can't imagine this device being comfortable with glasses on. Contact wearers are fine.
Pyle PLV3D15 3D VR Headset: Setup
Setup is almost non-existent. You only need to open the front cover, pop your device in, and that's it. First, you'll probably want to pair the controller though. After you've got everything going, you'll just select your 3D movie or use an app like Google Cardboard to download VR games and have fun with it. It's really simple. Since the app uses your phone and doesn't care about the VR hardware you're using, there are no compatibility issues with the apps and the headset.
Pyle PLV3D15 3D VR Headset: User Experience
Pyle PLV3D15 3D VR Headset has received mixed reviews, with one user praising the fast delivery. He talked about how his phone fit snugly into the housing, despite the lack of securing mechanism. He also said everything worked great and would buy another one.
Another user criticized the lack of focal adjustment. This makes it difficult for nearsighted folks to use this device. A third user compared the device negatively to other VR options, like PC VR. It's not a fair comparison, really, but it's easy to see how some could be disappointed.
An anonymous customer praised the device. He gave it five stars and said everything worked as intended and that he was still trying to get the apps working properly. It's good to know everything is working well though.
Bottom Line
If you're looking for something a little on the cheaper side that's a slight step up from the Google Cardboard viewer, this might just be exactly what you're looking for. It still has a bit of a cheap feel to it, but it'll last, and it provides a lot more support than the Cardboard. Don't expect to be dazzled by this one, but it'll work great for the entry-level VR person. iOS users may be scared away though by the need for an additional purchase, but that's going to be the case with most of these headsets. Overall, it's a thumbs up for the casual crowd.