*This post may contain affiliate links. As an Amazon Associate we earn from qualifying purchases.
Virtual reality is one of these innovative technologies that you can easily enjoy in your home. If you are looking for a great virtual reality headset, then look no further. The Razer OSVR HDK2 VR headset is a great headset to get the experiences you want. In this review, you will find all the information you need to know about this VR headset.
Razer OSVR HDK2 VR Headset: Specs
This chart below has all the specs you need about this VR headset. With this chart, you can look up information quickly, and you can also use it to compare other models.
Razer OSVR HDK2 VR Headset Specs
Headset Type
Open-source VR Headset
Resolution
2160 x 1200
Field of View
110°
Sensors
Positional tracking
Controls
Accelerometer, Gyroscope, Compass
Platform
OSVR and SteamVR
Amazon Rating (out of 5)
3.3
Our Rating (out of 5)
4.2
Among the information presented above, you will also find several exciting features that set this headset apart from others of its kind. With a dual display, you can experience your games and movies in a way that you might never have imagined before. The sensor hub ensures that you can look in all directions, immersing yourself into a new world.
The headset comes with a rubber nose cushion so that your VR experience is both fun and comfortable at the same time. This open-source headset means that you can use any software that you want with your headset, and with the IR camera, you will get a 360-degree positional tracking experience beyond any other experience.
Pros & Cons
As with most headsets, this VR headset has positive and exciting aspects, but also issues that we will address below.
Pros:
The head straps on the back of the headset are adjustable to aid in comfort.
The open-source technology allows you to use whatever software you want.
The resolution on this headset is incredible.
This headset comes with an air puffer to clean out the lenses.
The dual lens on this headset gives you a sharper image.
Cons:
Setting up the software can be more difficult than on other models.
Moving your head too quickly can cause a lag in the VR.
The text on games and movies is often blurry on this headset.
Razer OSVR HDK2 VR Headset: Design & Requirements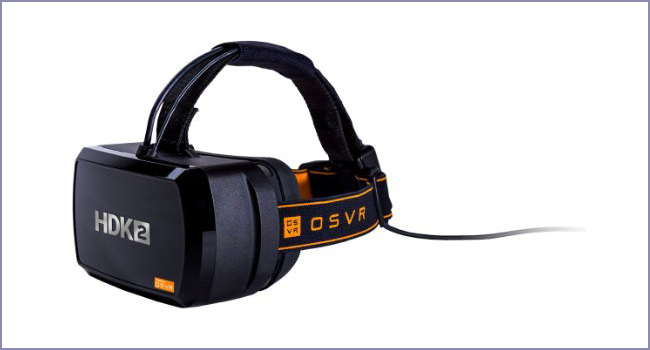 [su_button url="https://www.amazon.com/OSVR-HDK-Head-mounted-display-experiences/dp/B01HDUVIZ0/?tag=probestvr.com-20″ target="blank" style="flat" background="#f40616″ size="6″ center="yes" radius="0″ rel="nofollow"]Check Prices[/su_button]
The design of this headset looks like something out of a science fiction movie. It is black all over except for the logo on the front of the headset in a chrome color. The head straps are black aside from the OSVR in orange around the band. This design is modern and stylish at the same time, and you still get all the functions of virtual reality.
The only requirement for this headset is a certain software that you download on your computer. This software is what gives your games and movies that virtual reality experience that you are going for. Without this software, your headset would not work like it is supposed to.
Razer OSVR HDK2 VR Headset: Controls & Display
This headset is controlled by the computer software, but you do all the starting, stopping, and pausing on your game or movie. Once you have downloaded the proper software, you will be in full control of the software, where you get to choose the games and movies you want to play or watch. You also won't be disappointed in the incredible experience that you will get with this software.
The display on this headset is one-of-a-kind. The resolution is high, and the dual vision works to give you the sharpest image possible. The eye-box is larger than other headsets so you can comfortably wear the headset and get the fullest, best picture to make your experience incredible.
Razer OSVR HDK2 VR Headset: Setup
Setup is rather difficult, being hindered by multiple software updates, the lengthy time of download, and the software learning curve.
However, if you are familiar with this sort of technology and the software that makes virtual reality run, then you shouldn't have any issues with the setup of the headset. There are ways you can use a manual setup that has an instruction guide to help you through the process of setting up your virtual reality headset.
Razer OSVR HDK2 VR Headset: User Experience
Users, overall, found this VR headset pretty average. They neither hated it nor loved it. Since it is a headset for developers or enthusiasts, users talked mostly about the bugs that come with it. There are ways to fix these bugs, and most reviewers have found ways to get around the issues.
Though there are issues, this product is still praised by many users. Despite the problems, you might find that this headset is still top rated. If you can set up the software for this headset, then you might consider giving this one shot.
Bottom Line
The bottom line is simple. This Razer VR headset is high quality and one of the best headsets out there, even if there are a few bugs on the developer's side. It stands out thanks to its high resolution, open-source technology, and dual lens design. If you are looking for a way to experience virtual reality like never before, try it and decide for yourself. Have you tested the developer options of this Razer headset? Let us know what you think about it.