*This post may contain affiliate links. As an Amazon Associate we earn from qualifying purchases.
The VOX+ VR headset is a mid-to-high range virtual reality device that's perfect for serious gamers as well as users who want to view VR content at the highest resolution possible. It's designed to work with a number of applications like Discovery VR and the DinoTrek VR Experience that give users an immersive experience.
Gamers will love added support for the latest Sonic the Hedgehog virtual reality game. You'll actually feel like you're moving faster than sound. Each pair of goggles comes with an interpupillary distance control affixed to the top of the frame. We took a look at this rather impressive device to see what makes it tick.
Check the latest offer for the VOX+ VR headset.
VOX+ VR Headset – Specs
| | |
| --- | --- |
| Headset Type | VR headset |
| Resolution | Aspheric lenses automatically adjust to your smartphone's resolution, and they also provide enough space for prescription lenses. |
| Field of View | 120° for standard users. Myopic and hyperopic users can adjust them between 0°-800° or 0°-400° as desired |
| Sensors | Patented grip and haptic feedback hybrid sensor network technology. |
| Controls | Digital buttons for answering calls while inside of a VR simulation and a pause button and volume slider. |
| Platform | Apple Store and Google Play, as well as offering compatibility with Windows phones |
| Amazon Rating (out of 5) | 4 |
| Our Rating (out of 5) | 4.3 |
While it might not seem like the biggest selling point, each of these headsets comes with six holes strategically placed on the frame and harness to let your head breathe. This increased level of airflow is extremely helpful if you watch IMAX movies at home or dedicate yourself to long gaming sessions. This is also one of the few headsets that offer nearsighted users a clear image.
VOX+ VR Headset – Pros & Cons
Pros
[su_list icon="icon: plus-circle" icon_color="#23a006″]
The innovative aspheric lenses coupled with a focus control let nearsighted users enjoy VR content without wearing glasses
The harness design gives your head plenty of extra air to prevent sweat or discomfort
VOX+ supports a dizzying array of different smartphones
[/su_list]
Cons
[su_list icon="icon: minus-circle" icon_color="#a00e06″]
The documentation's translation suffers at times, making it hard to read
The camera clips are fragile and will snap if you're not careful when putting your phone in place
[/su_list]
VOX+ VR Headset – Design & Requirements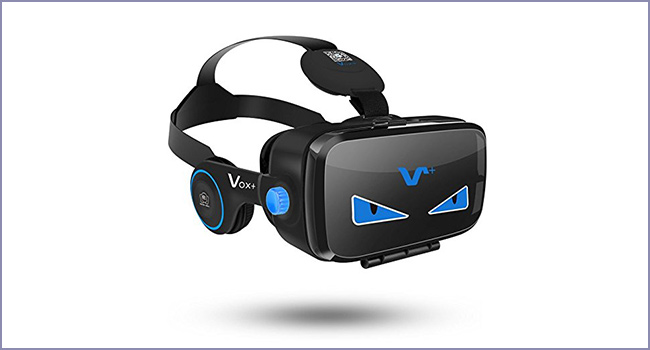 [su_button url="https://www.amazon.com/dp/B01N6NOT1S/?tag=probestvr.com-20″ target="blank" style="flat" background="#f40616″ size="6″ center="yes" radius="0″ rel="nofollow"]Check Prices[/su_button]
Firstly, each headset provides two dials for head adjustment as well as controls for focus and interpupillary distance. Also, the headset provides digital buttons for answering calls while inside of a VR simulation along with a pause button and a volume slider.
Secondly, the VOX+ VR headset system supports the vast majority of VR-ready 4.7-6.2″ smartphones. This includes the latest Apple products, which many manufacturers have yet to offer support for. VOX offers special support for new games, like InCell, and they also offer coupon codes for owners of their headset equipment.
Lastly, while you're required to run a specialized app to work with the VOX goggles, this app is free for owners of the headset. It interfaces with the existing app store installed on your device. You won't need to download any other drivers.
VOX+ VR Headset – Controls & Display
As well as the innovative physical focus and volume adjust buttons, the frame of the VOX+ VR headset offers an adjustable T-type headband. It's easy to adjust the straps on the headband to relieve pressure on your eyes. None of the controls work with Bluetooth or remote control technology.
The VOX company claims that you shouldn't need further adjustment once you've configured the headset. A small adjustable clamp holds your mobile phone in place, but you won't need to do much to get it to fit properly. By using exceptionally clear optics, the headset's designers succeeded in giving users sharp images that have a glossy effect to them.
While they might seem slightly unreal, the VOX+ VR headset's visuals are stunning looking especially when playing wrap-around games like Sisters: A Virtual Reality Ghost Story. The headphones come pre-configured to offer full 360° audio, which is crucial when playing these kinds of games. It takes a bit of getting used to, but it really does add to the experience when you're trying to imagine yourself moving around inside of a fictional world.
VOX+ VR Headset – Setup
You can download the official V+ configuration software as soon as you take your new headset out of the box. You'll be given a sample image to test the VR effect with so you can have ample time to adjust the lenses with the included controls.
You won't need to do any other configuration since this unit doesn't make use of Bluetooth or other remote control technology. While this headset isn't based on Google's Cardboard libraries, you can download the Cardboard app to help you launch favorite VR games and discover new apps while you're at it.
VOX+ VR Headset – User Experience
Users' experience is generally favorable. While there aren't many reviews on Amazon, the majority of reviews is positive, users stating that what they mostly like is the comfiness of the VR headset. One user even states that this VR headset is a fun way to spend quality time with their family. And the quality of the video rendition which, he claims, is superior to his other VR headsets. However, he did not say what are the other ones, so a comparison is not possible.
On the other side of the barricade, there are some users that do not enjoy their VR experience at all. Their main critique resides in the fact that the quality of the video rendition is subpar and that the material of which the VR is made feels cheap. Our final user is dissatisfied by the fact that it feels cheap when wore. On top of that, many apps ask for a QR code scan. He states that the QR is on top of the VR headset, but difficult to find.
Bottom Line
While the VOX+ VR headset may have designed a winner that's the only realistic choice for nearsighted users, it's important to keep in mind that this headset's target group are gamers and other power users. It doesn't use a remote control or Bluetooth technology. You might not like it if you're akin to these solutions. But keep in mind that it offers the best 3D VR image in its price class.
You won't find one that looks better without suffering some major sticker shock. In fact, the VOX+ offers a better image than many more expensive models do for a fraction of the price. Now, if you've used the VOX+ VR headset, let us know what your experience was like. If not, and you have questions, let us know and we'll help you with any information. And don't forget to subscribe to our newsletter for more Pro Best VR reviews.