*This post may contain affiliate links. As an Amazon Associate we earn from qualifying purchases.
With a four megapixel 2880×1440 screen at an amazing 120Hz, the Blubur S1 is a high-end device that features the latest VR technology and a high-fidelity sound system. As such, the 3Glasses Blubur S1 VR Headset provides better VR experiences than Vive or Oculus. Compatibility with various platforms, such as Unreal Engine, Unity, Windows, Steam, WebVR and HoloLens makes the 3Glasses Blubur S1 an interesting purchase. Read on our 3Glasses Blubur S1 VR headset review to learn more about the features of this VR device.  
3Glasses Blubur S1 VR Headset: Specs
In this chart, you will find the basic specs of Blubur S1 VR headset.
3Glasses Blubur S1 VR Headset Specs
Headset Type
PC desktop and laptop with Full Size Display Port
Resolution
2880 x 1440, 120Hz Panel Refresh Rate
Field of View
110°
Sensors
Orientation sensor network
Controls
Integrated Microphone, High Fidelity Adjustable Earphone, Blue Light Cut Technology
Platform
SteamVR, Unreal Engine SDK, Unity SDK, Windows 10, WebVR, HoloLens
Amazon Rating (out of 5)
2
Our Rating (out of 5)
3.2
The 3Glasses VR headset includes an advanced blue light cut technology, plus state-of-the-art earphones and microphone. You can use the Blubur S1 headset with desktops or laptops. The device is compatible with Windows 10, Web VR, Steam VR, Unity SDK, and Unreal Engine SDK. Once you have downloaded the proper software, you can dive right into your gaming or movie world. The LCD has 704 pixels to give you a more brilliant view, and the resolution is high, so there is not fuzziness in the picture. The wide field of view provides a flawless immersion into VR games and worlds.
Pros & Cons
In this section, you will find what we like and what we don't line about the Blubur S1 VR headset.
Pros:
[su_list icon="icon: plus-circle" icon_color="#23a006″]
The blue light technology cuts out the blue light to protect your eyes.
You can use your desktop or laptop for this VR headset.
You can play multiple games (War Thunder, ABE VR, Colosse, Subnautica, and many more) on this headset.
The software makes it easy to use this headset.
The resolution on the headset is wonderful.
Crisp and accurate sound.
[/su_list]
Cons:
[su_list icon="icon: minus-circle" icon_color="#a00e06″]
The head tracking is lacking in this design.
This headset works poorly as a secondary monitor.
The Blubur S1 headset doesn't come with an instruction manual.
[/su_list]
3Glasses Blubur S1 VR Headset: Design & Requirements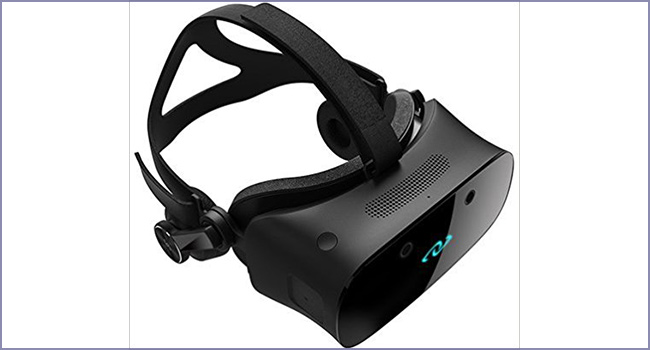 [su_button url="https://www.amazon.com/dp/B01MQTZ6FM/?tag=probestvr.com-20″ target="blank" style="flat" background="#f40616″ size="6″ center="yes" radius="0″ rel="nofollow"]Check Prices[/su_button]
When it comes to design, the 3Glasses Blubur S1 takes the lead. This headset is made with a shiny front that has the logo in a bright blue to stand out against the black. The rest of the headset is matte black, making it look both sleek and stylish. The adjustable head straps are also black, and made with a modern design in mind.
Before you can use this headset, you will need several things. A PC desktop or laptop is required to download the software to set up your headset. You will also have to download a software either from Windows 10 or SteamVR to get the necessary games and movies to play in your 3Glasses Blubur S1 VR headset.
3Glasses Blubur S1 VR Headset: Controls & Display
Controlling this headset is easier than you might think. While most of the control is done on your desktop or laptop, you can also use the microphone for other controls. The 3Glasses Blubur S1 headset also has a 120Hz refresh rate, so you never miss a second of game time or movie time. At 2880×1440 120Hz, the display in this headset is stunning indeed.
3Glasses Blubur S1 VR Headset: Setup
When you are preparing to set up your 3Glasses VR headset, you will need to download and instal the software on your own. You can use a manual set up that has a guide with it to help you through the process.
You can use SteamVR or various Windows 10 software programs to run your VR headset. Before you choose a software system, you should ensure that it is compatible with the headset as well.
3Glasses Blubur S1 VR Headset: User Experience
Overall, users have been rather critical of the 3Glasses VR headset. There have been complaints of the device not working properly, which could be a factory defect. Other users, however, have praised the comfort of the headset because of the adjustable strap on the back.
All in all, if you want to try this headset, you will need to compare the specs with other models to ensure that this is the best virtual reality headset choice to meet your wishes.
Bottom Line
The 3Glasses VR Headset can be a good option for gamers, as the device is compatible with a wide numbers of games. The 3Glasses Blubur S1 VR headset features state-of-the-art technology, with an astounding display, and a high-fidelity audio system. Unfortunately, the user manual is available only in Chinese. Thank you for reading our 3Glasses Blubur S1 VR headset review, and do not forget to share any experience you have with the Blubur S1 in the comment form below!
Recommended read: GenBasic Quad HD VR Headset Review