Talk of virtual reality and most people will conjure up images of landscapes in a film or game. Since its inception and application, only a few individuals enjoyed its benefits as it was only available via tethered VR headsets. With the introduction of mobile virtual reality, however, more people can enjoy this fascinating feature using their mobile device and an Android VR headset. The next discussion looks at the best VR glasses for Android, according to essential details like their resolution, field of view, and ratings.
Top 5 VR Headsets for Android
Product Name
Type of Headset
Resolution
Field of View
Platform
Controller
Amazon Rating
Our Rating
Pansonite 3D VR Glasses
Mobile
Smartphone resolution
90-120

°

Android, iOS
Multifunctional Button
4.8/5 stars
5/5 stars
Freefly VR Headset
Mobile
Smartphone resolution
120

°

Android
Glide Controller
3.5/5 stars
4.6/5 stars
Bnext VR Headset
Mobile
Smartphone Resolution
100

°

Android, iOS
Conductive Button
3.9/5 stars
4.5/5 stars
Fiit VR Headset
Mobile
Smartphone resolution
102

°

Android, iOS
Bluetooth Remote Controller
3.9/5 stars
4.3/5 stars
Bobo VR Z4 Headset
Mobile
Smartphone resolution
120

°

Android, iOS
Conductive Button
5/5 stars
4.2/5 stars
10. Homido V2 VR Headset
The Homido VR Headset makes one of the best VR glasses for android for users looking for headsets with 360 degrees field of view. It comes with adjustable lenses, and boasts three alternative settings for users wearing glasses; near and farsighted as well as normal vision. Apart from Android compatibility, it takes on the iPhone 8 and 8+. Its handy head strap allows users to enjoy VR apps hands-free, and it features a foam outline along the inside of the accessory to provide a comfortable fit for prolonged use. A unique feature about the headset is that it does not allow light to flood into the viewer's eyes. With this affordable Android VR headset, you will be able to watch films, 360 degree videos, and play games.
9. Tepoinn VR Headset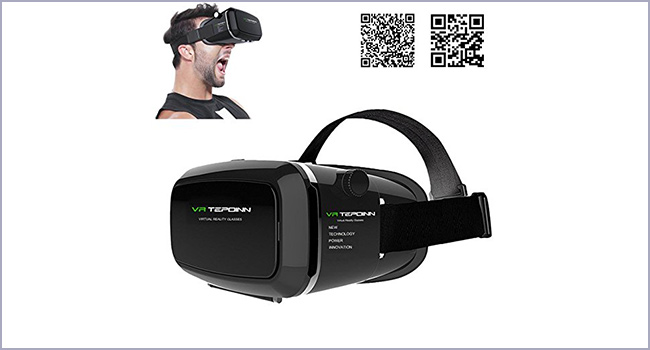 Whether you are playing a game or watching a movie, the Tepoinn VR headset allows users to enjoy a 360-degree virtual reality experience. It comes with a flexible head strap, providing a comfortable fit for all users. The headset features a relatively stable build with adjustable dual lenses for focal length and distance and the unit slots that fit comfortably on the users' head. Tepoinn is designed for android smartphones from 3.5-5.5 inch screen sizes and a dual-axis adjustment of lenses. It is one of the best Android VR headsets under 50 dollars.
8. Habor VR Glasses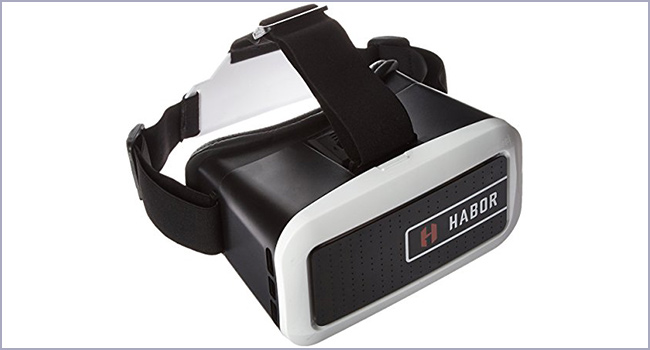 The Habor VR Glasses make the best VR glasses for Android if you are looking for a budget-friendly headset. This Android VR headset comes at a price tag under 100 dollars. The blue-tinted lenses bring out a streak of elegance while the leather padding allows extended use. It also features twin axis control that provides a pretty comfortable focus. The only downside of the Habor VR Glasses is that they don't have built-in action buttons and a bundles Bluetooth controller, hence any VR apps that need user input may not be useful.
7. HAMSWAN SC-Y005 3D VR Glasses
The HAMSWAN SC-Y005 rank as the best VR glasses for Android devices for users looking for budget-friendly VR. They have a lightweight design, are made from a combination of ABS and fabric, and a non-woven, nylon headband. Compatible with most Android, iOS and Windows phones, 4 to 6 inches in size, they have a detachable front lid to prevent overheating. In terms of visual quality, the glasses have an aspheric optical resin and anti-distortion lens, with a 100-120 degree field of view and adjustable pupil distance.
6. BlitzWolf 3D VR Glasses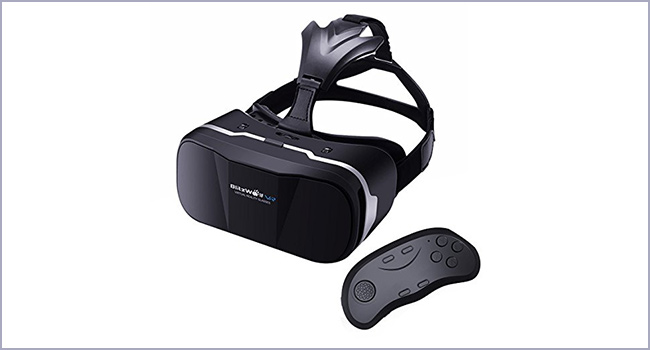 These 3D VR glasses from BlitzWolf are truly a cut above usual Android VR headsets. They can accommodate phones with sizes between 3.5 and 6.3 inches, and are built to endure the worst conditions. The lenses are aspherical, with an 8-layer nano-coating and 108 degrees field of view, to bring crystal clear images. The lenses are also individually adjustable, with up to 500 degrees of shortsightedness. The glasses also feature a removable front cover, to improve ventilation, adjustable straps, and phone clamp.
5. Bobo VR Z4 Headset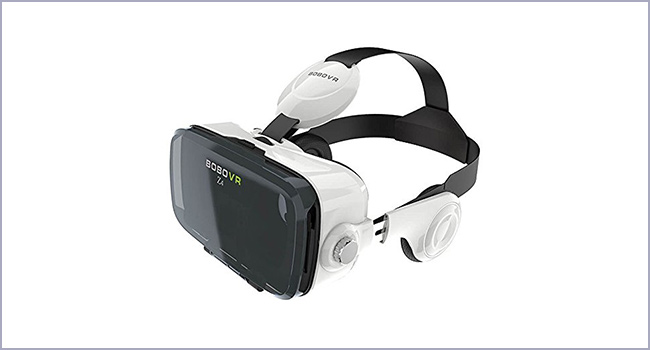 The Bobo VR Z4 Headset is compatible with the latest edition of Android phones with screen sizes of 4-6 inches, and comes at an affordable price. The headset features built-in headphones, and an impressive 120-degree field of view. It has adjustable lenses but weighs slightly more compared to the Gear VR, which has 12 ounces. However, other versions of the headset without headphones weigh 11 ounces. While it comes with a button, you may want to use it with a remote controller as some users have reported its lack of consistent performance on particular Android phones or certain screen protectors.
4. FiitT VR Headset
The FiiT VR headset comes in an attractive, sturdy package with customized inserts to hold all the pieces in place. It features an outer faceplate, and the lenses come packed in a clear plastic cover. Weighing under 10 ounces, the headset is much lighter than the Samsung Gear VR. It provides a perfect fit for folks wearing glasses, as the distance between the lenses is adjustable. FiitT VR headset is compatible with lots of Google Cardboard applications and can also work as a private movie theater for gamers who love traditional films.
3. Bnext Virtual Reality Headset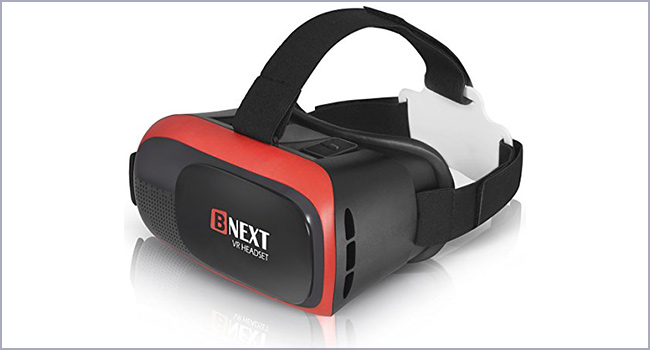 With a 360 degree virtual experience, this VR headset allows you to turn your smartphone into a powerful gaming device. Its breathable foam and adjustable head straps allow users to wear the headset for long periods. Also, it features an eyesight protection system and supports screen sizes of 4-6 inches. Users also get to enjoy a stream of VR videos on YouTube. It supports screen resolutions with 4k, HD, 3D, 720p, and 1080p. It is one of the best VR headsets for Android under 50 dollars, and makes a great gift for both adults and children.
2. Freefly Beyond VR Headset
Freefly Beyond VR Headset features lavish faux leather padding, which brings a touch of elegance to this VR device. The bundled GLIDE Bluetooth controller is sparkly and features a mini-joystick and control pads. Freely VR headset also has a pair of adjustable clamps that keep it steady. It also comes with a cable that allows users to charge smartphones, a feature that enabled it to rank among the best VR glasses for Android. Besides, its sturdy construction, lightweight, and stable straps provide a pretty comfortable wear for long-term use. Some happy customers claim it is the best VR mobile headset under 50 dollars.

1. Pansonite 3D VR Glasses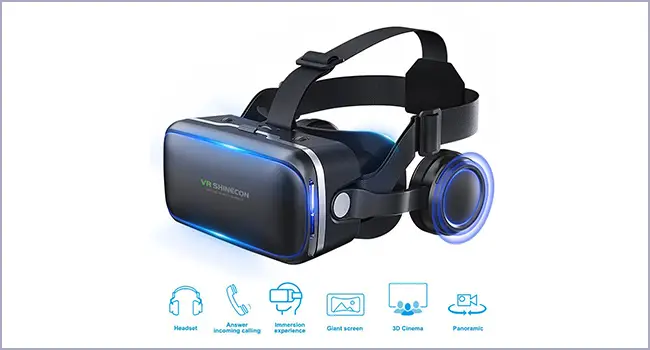 Pansonite 3D VR Glasses takes your virtual experience to a whole new level. Featuring an expansive 100-degree field of view, incredibly comfortable padding, and a touchscreen action button, you can watch 3D movies wherever you are. These glasses support Android, Windows and iOS devices of 4.7-6 inches and feature an adjustable focal and pupil distance to accommodate all eye types. The glasses feature built-in headphones and a multifunctional button. The button can be used for answering calls and has video pause/play actions, as well as volume control setting. With a suction cup design for keeping the phone in place and their HD resin aspherical lens, these are the best VR glasses for Android devices.
Conclusion
With more developers catching to the trend of mobile virtual reality, every gaming and film enthusiast can now enjoy this great experience without breaking the bank. The list should guide you to pick the best VR glasses for Android devices on a budget. Thank you for reading, and do not forget to share your opinion on any of these VR mobile headsets with us!
(Visited 482 times, 1 visits today)