*This post may contain affiliate links. As an Amazon Associate we earn from qualifying purchases.
Video gaming and movie watching are never going to be the same again. Finally, the advent of virtual reality has arrived. People are able to pick up virtual reality headsets for a relatively decent price nowadays, and the quality of these devices is improving rather quickly. They are able to have an individual viewing experience that takes their breath away. There are many options available on the market for virtual reality headsets, so picking one out might be rather challenging. There is one item that stands out on its own, and that is the MAGIOVE 3D VR Glasses.
MAGIOVE 3D VR Glasses Main Specs
| | |
| --- | --- |
| Headset Type | Android, iOS, Windows phone VR Headset |
| Resolution | 1080 x 1920 |
| Field of View | 83-85° |
| Sensors | None |
| Controls | Adjustable pupil distance via rolling gear on top, adjustable object distance via left and right turn knobs |
| Platform | Discovery VR, Inspection: VR & 360 Videos, YouVisit, VR Video World, and VeeR VR |
| Amazon Rating (out of 5) | 3.7 |
| Our Rating (out of 5) | 2.5 |
This product is great for people who are looking to focus on watching 3D videos in a personal way. They are meant to be paired with a smartphone that has a screen between four and six inches wide. And they work well with several apps that typically provide videos for the correct formatting needed in the 3D variety. Users find that this product lacks in the video game department because it does not have controllers or connectivity to any device outside of a smartphone. It offers a rather high resolution, which means it meets and exceeds the industry standard.
Pros & Cons
We will list both the pros and cons of these VR glasses below, taking a more detailed approach to the list.
Pros
[su_list icon="icon: plus-circle" icon_color="#23a006″]
The MAGIOVE 3D VR Glasses fit great for children and adults alike as the straps are highly adjustable, which make them easily fit any person's head.
These glasses provide a 3D effect that is missing in most other VR glasses.
The picture quality in these glasses is rather clear. And you can adjust the images to see them in a common area of view without having two, separate images cross in the brain.
Unlike other models, this one comes with headphones in the headset, which makes for a comfortable fit.
As far as the construction of these glasses goes, these are from high-quality plastic for the main component of the product, and the straps are of stretchable wool.
[/su_list]
Cons
[su_list icon="icon: minus-circle" icon_color="#a00e06″]
Headphones that do not come with this set of glasses might not fit comfortably on the head.
The wool straps that are used to hold the MAGIOVE 3D VR Glasses to a person's head can become hot and itchy.
[/su_list]
MAGIOVE 3D VR Glasses Design & Requirements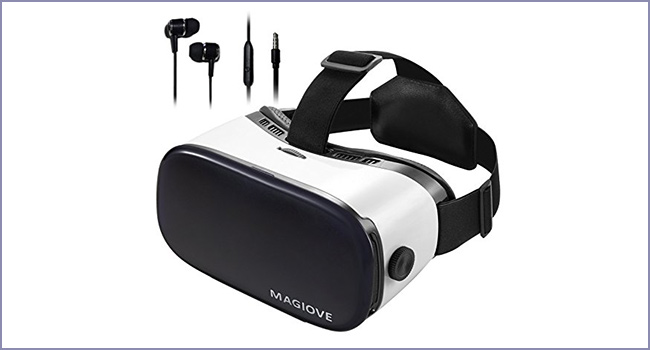 [su_button url="https://www.amazon.com/MAGIOVE-Glasses-Virtual-Reality-Headphones/dp/B01M8KXFA0/?tag=probestvr.com-20″ target="blank" style="flat" background="#f40616″ size="6″ center="yes" radius="0″ rel="nofollow"]Check Prices[/su_button]
As mentioned previously, the MAGIOVE 3D VR Glasses are made out of high-quality plastic for the main component that holds onto the smartphone and provides the field of view. Therefore, this part of the product is rather durable, which makes it a perfect use for children who might be more than a little rough on the headset.
This headset works great with either Android phones or iPhones. The only catch is the screens to these smartphones have to measure between four and six inches. Multiple applications work well with it, so finding videos to watch on it is not a problem.
MAGIOVE 3D VR Glasses Controls & Display
There are not many controls to the MAGIOVE 3D VR Glasses. There is a dial on the top of the main component that holds the phone and provides a field of view. This dial allows for adjustment in the distance between a person's eyes and the phone. At the same time, there are knobs on each side of the device. This allows for adjustment in how clear the 3D effect will take place. As with the industry standard's dictations, the resolution for this model reaches 1920 x 1080. Using this resolution is important to make sure that high definition videos translate clearly into the headset's field of view.
MAGIOVE 3D VR Glasses Setup
One of the attractions to these glasses is the fact that they are only used for video watching. Therefore, there are not any cords and wires needed to attach it to anything. In order to setup this headset, simply pick out what video will be watched on the smartphone first. Then, the smartphone can be loaded into the main component of the headset. Once the component is loaded, the headphones need to be plugged into the unit. This final step leads to the headset being placed on the head. Taking the time to adjust the straps is essential for comfort.
MAGIOVE 3D VR Glasses User Experience
Most of the customer reviews find the fact that these headsets are so comfortable one of the main attractions to purchasing them. Adjusting to wearing them at first can be a task because they feel a little on the heavy side once the smartphone is in the main component. There is a foam casing around where the smartphone locks into place for the sake of keeping it stable. Which is essential for people who want to lay down and watch videos.
Bottom Line
There are many things that make the MAGIOVE 3D VR Glasses rather enticing for some people. They take VR technology to a simplistic level by removing cords and connectivity to gaming controllers. Which makes it great for people who just want to watch videos. At the same time, these glasses leave somewhat much to be desired. There are concerns about the weight of the main component when it contains a smartphone, and the controls can be rather testy to figure out the first time. We encourage anyone who uses this product to share their experiences just as much as people who have questions are welcome to pose them.