*This post may contain affiliate links. As an Amazon Associate we earn from qualifying purchases.
Sneba VR glasses are based on the same Google Cardboard technology that powers a large percentage of the VR industry, but they have more in common with the Oculus Rift series than they do with an actual cardboard box. These goggles are designed with the same premium ABS plastics and high-quality leather cushions usually only ever seen in far more expensive models, though this hasn't upped the cost to ridiculous levels. With a price tag under 50 dollars, Sneba 3D VR glasses are among the most affordable headsets, suitable for VR beginners.
We were wondering whether the Sneba goggles were too good to be true, so we decided to research the hardware and various user experiences ourselves to get a better look at them. The result of our research is this Sneba VR glasses review, to help you decide if this product is worth your money.
SNEBA VR Glasses: Specs
| | |
| --- | --- |
| Headset Type | Google Cardboard Clone |
| Resolution | Up to 4K Display |
| Field of View | Nominal 360° |
| Sensors | None |
| Controls | Pupil Adjustment and Volume Control |
| Platform | Smartphones 4.5 – 5.7 inches |
| Amazon Rating | 3.5 Stars (out of 5) |
| Our Rating | 4 Stars (out of 5) |
Sneba uses special HD double-radian asynchronous integrated optical lenses to cut down on eye fatigue. Some users actually report fewer headaches when using the Sneba VR goggles compared with other models. While the company claims that this makes them absolutely harmless, it's still not a good idea to wear them for too long regardless of what the official documentation reads.
Nevertheless, many customers feel that these specialty lenses don't make their eyes work overtime the way that other Google Carboard-based VR headsets do.
Pros & Cons
Pros:
[su_list icon="icon: plus-circle" icon_color="#23a006″]
Premium leather design is extremely comfortable to wear;
Compatible with Apple, Samsung, HTC and LG products, as well as many other makes of smartphones;
Supports all Google Cardboard apps, including all those that play movies;
Display features a respectably high pixel depth, which is comparable to other higher-end glasses;
Google Cardboard solutions;
[/su_list]
Cons:
[su_list icon="icon: minus-circle" icon_color="#a00e06″]
Offers poor quality images to iPhone 5s and 5s+ users. This is because of the unusual size and shape of the screens on these devices.
Lenses are extremely susceptible to humidity and will fog up easily.
Bluetooth system won't work with iOS 10. However, this is a common problem in the VR industry due to Apple's closed ecosystem.
[/su_list]
Sneba VR Glasses: Design & Requirements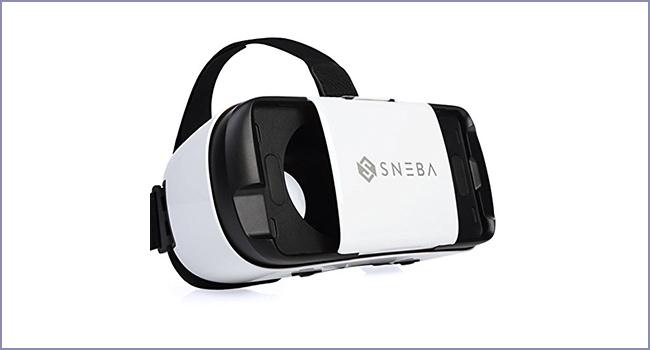 [su_button url="https://www.amazon.com/Glasses-Premium-Virtual-Adjustable-Smartphone/dp/B01NAJPVTL/?tag=probestvr.com-20″ target="blank" style="flat" background="#f40616″ size="6″ center="yes" radius="0″ rel="nofollow"]Check Prices[/su_button]
Since Sneba VR glasses work with the Cardboard platform, they should function with any smartphone of the right size that can run the Cardboard app. The physical shell is made of high-impact plastic, which should help to hold it together for the long haul.
Sneba's engineers did a good job of dispersing the weight. Basically, the front of the plastic shell shouldn't push down too heavily on a user's face. Additional padding helps to keep the cushions in place while lifting the front box off of the eyelids. This is a big plus for those who have larger faces, and find many Google Cardboard clones uncomfortable to wear.
Sneba VR glasses are compatible with a wide range of mobile devices and smartphones such as iPhone 7/6 plus/6/5s/5c/5, Samsung Galaxy s5/s6/s7/note4/note5/edge, Google Pixel, and other 3.5 – 5.7 smartphones iOS/ Windows /Android. Over 1000 VR apps and games can be downloaded for free from Google Play and Apple Store for the Sneba VR headsets. Users can also watch interactive 3D videos on YouTube and other VR websites.
Recommended read: 12 Best VR Glasses for iPhone
Sneba VR Glasses: Controls & Display
A full pupil adjustment system eliminates the need for eyeglasses, which shouldn't be worn with Sneba goggles anyway. Some users will need to move the lens adjustment quite a bit each time they change videos. However, most people will find that they can move between different apps without experiencing any change in focal depth.
Included volume controls let you easily adjust the sound level without having to pull your phone back out of the bay each time one app decides to play music louder than the last. A generic Bluetooth remote control comes with the Sneba package, and it should work well for gamers using Android phones. Apple users will have to get a different device because of various iOS incompatibilities.
Sneba VR Glasses: Setup
The official Google Cardboard app comes with a configuration screen that features a pair of dancing Tiki masks. You'll need to run this as soon as you've installed the app on your phone.
Position it inside of the docking bay on the front of the SNEBA goggles. Lock them closed and adjust the goggles until you've merged the masks into a single image. Once you have, you've found the sweet spot. From now on, you should be able to use your new VR glasses like any other pair of Google Cardboard-derived lenses.
Sneba VR Glasses: User Experience
Some VR headsets are not comfortable enough, so it came as our surprise to head that a user on Amazon actually found that Sneba did a good job with both size and VR experience. Smartphones often get hot when running complicated virtual reality apps, and someone on Amazon said that the Sneba VR goggles are ventilated enough to handle this problem without damaging your phone. Some users have complained about problems fitting in phones in protective cases, but once the case is removed the phone fits perfectly.
Bottom Line
While they're still based on the popular Google Carboard platform, Sneba's new VR goggles are much more geared toward the premium market than most other comparable products. The price tag doesn't reflect this, as Sneba VR goggles are actually still relatively affordable. Users shouldn't expect features found in much more expensive models, but they certainly do what they set out to do.
We'd love to hear from you if you have any experience with Sneba VR glasses. We hope you'll stay tuned to read more of our candid reviews of the hottest virtual reality headsets.