*This post may contain affiliate links. As an Amazon Associate we earn from qualifying purchases.
The VR headset space is crowded. If you're looking for a phone-based headset, you've got more choices than you could ever reasonably sort through. That's why this article is here – to provide you with a VR WEAR 3D VR Glasses Headset Review that will give you an objective view of the product. We will take a look at the specs, the design, the controls, and even user reviews to help you determine if this is the right headset for your needs.
VR WEAR 3D VR Glasses: Specs
| | |
| --- | --- |
| Headset Type | Smartphone VR headset |
| Resolution | Depends on Phone |
| Field of View | 100° |
| Sensors | Phone-based Tilt |
| Controls | Magnetic Button |
| Platform | Button Smartphone |
| Amazon Rating (out of 5) | 4 |
| Our Rating (out of 5) | 4 |
If we're going to sum up the features of the device in this VR WEAR 3D VR Glasses Headset Review, it's with a simple phrase – Google Cardboard, but better. It takes the concept of those simple glasses and pushes everything up a bit, with a better field of view, more comfortable headset, and even a better magnetic button. It's a simple headset to be sure, but one that's also made for real users.
More awesome VR glasses: 10 Best 3D VR Headsets
Some of the best features are just there for comfort. The device is meant to help you to keep from overheating even when your phone is near your face, which is a great quality of life improvement. You can also wear headphones while using the device, which makes it much better for watching movies. This is one comfortable VR headset!
VR WEAR 3D VR Glasses: Pros & Cons
Pros:
[su_list icon="icon: plus-circle" icon_color="#23a006″]
Very comfortable;
Easy to use;
Fits multiple models of phones;
Increased field of view;
Headphones are usable;
Phone can charge while being used;
Easily adjustable lenses;
Solid construction;
[/su_list]
Cons:
[su_list icon="icon: minus-circle" icon_color="#a00e06″]
Phone does most of the heavy lifting;
Not the greatest field of view with smaller phones;
Feels cheap, even when it shouldn't;
Headband breaks easily;
Limited support for apps;
Set-up is harder than advertised;
Not quite as robust as some other headsets at this price point;
[/su_list]
VR WEAR 3D VR Glasses: Design & Requirements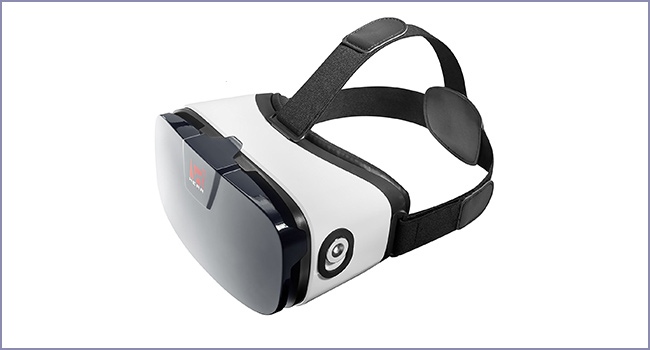 [su_button url="https://www.amazon.com/dp/B071CJD55H/?tag=probestvr.com-20″ target="blank" style="flat" background="#f40616″ size="6″ center="yes" radius="0″ rel="nofollow"]Check Prices[/su_button]
If there's one thing that stands out in this VR WEAR 3D VR Glasses Headset Review, it's that you can use this headset with virtually any phone. So long as your phone makes it in between 4.5 and 6.3 inches, you can use it here. That means that the model allows you use to virtually any modern phone, though bigger phones are naturally better than smaller phones if you're looking for a better field of view.
In terms of the headset's design, it's nothing special. If you've seen almost any other VR phone headset, you're going to get the gist. It should be noted, though, that the design of this headset does incorporate a hole so you can use headphones or charge your phone, which is a nice touch that it'd be good to see in more phone-based VR headsets.
[amazon box="B01GM0CWQG"]
[amazon box="B071P9NHSN"]
VR WEAR 3D VR Glasses: Controls & Display
We almost exclusive used title controls during this VR WEAR 3D VR Glasses Headset Review, though those are not the only controls available. Much like Google Cardboard, you'll have access to a magnetic button when using this headset. That gives you a little more control when it comes to making on-screen choices, but it's not quite a true controller. Think of it more as a button you can use to start up and exit apps more than something that you'll actually use to control games.
[amazon box="B06XG8WMCX"]
[amazon box="B074H2ZM5B"]
The display is entirely dependent on your phone. If you have a larger, more modern phone, you'll have a much wider field of view and a greater level of graphical fidelity. You can absolutely get 2k resolution on this headset, but you'll need a phone with a 4k display to do so.
VR WEAR 3D VR Glasses: Setup
Set-up for this VR WEAR 3D VR Glasses Headset Review was a little tougher than expected, though you wouldn't be able to tell it from the box. All you actually have to do is insert your smartphone into the slot and adjust the lenses. A quick scan of a Google Cardboard code should do the rest of what you need, but that's not always the case. You'll spend a fair bit of time messing around with the apertures to make sure that your vision doesn't blur while using the device and you may even have to turn the phone around. It's not a hard setup process by any stretch of the imagination, but it can be a bit more involved than it really needs to be.
VR WEAR 3D VR Glasses: Users' Opinion
We're not the only ones out there with a VR WEAR 3D VR Glasses Headset Review. Plenty of other uses have their own thoughts on the device, and we've found a few that really stand out.
One user noted that this device is much more comfortable than she had expected. Though it's fairly large, it's light – and that matters when you're using the device to play games. The user also praises how easy this device is to use.
Another user calls this unit almost perfect. He notes that it's a good device, but it does let in a little too much light. He's also a bit concerned that Apple doesn't really have enough good apps to justify using the device if you have an iPhone.
The final user thinks that the device is flawless. While he does say that some apps don't work well with the headset, he notes that this is an app problem rather than a problem with the design of this particular headset.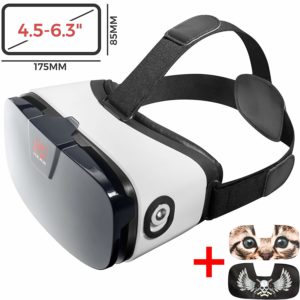 [su_button url="https://www.amazon.com/VR-Headset-Virtual-Reality-Googles/dp/B071CJD55H/?tag=probestvr.com-20″ target="blank" style="bubbles" background="#02d19d" color="#000000″ size="9″ center="yes" radius="20″]Buy the Product[/su_button]
Verdict
What's the verdict for this VR WEAR 3D VR Glasses Headset Review? In general, we thought it was a solid headset that will do the job it's meant to do. It doesn't do anything exciting, but it does work. If you're just looking to dip your toes into VR or if you are trying to find a way to get into the world of VR for a low price, it's a good fit. Just don't expect anything truly immersive from a phone-based experience.
What did you think of this headset? Is there something we forgot to mention? Did you see something we didn't notice? If so, drop us a line to let us know.