*This post may contain affiliate links. As an Amazon Associate we earn from qualifying purchases.
It certainly looked to us like the recent addition of Victony VR headset to the world of virtual reality is primarily marketed toward those who are moving up in the world of 3D movies and games. The headset looked like a good fit for intermediate users who are ready for a bigger and better VR experience but aren't ready to move up to a premium model yet.
We wanted to take the time to look more closely at its design and, in the process, we found not only a ton of information about the hardware but also what other users think about it.
Victony VR Headset: Specs
Victony VR Headset Specs

Headset Type
Ergonomic 3D VR Headset
Resolution
4K Aspherical High Definition
Field of View
120°
Sensors
Audio
Controls
Bluetooth Remote and 600° Pupil Adjustment Dial
Platform
Smartphones 4.5-6 inches
Amazon Rating (out of 5)
4.5
Our Rating (out of 5)
4
What Victony's engineers refer to as audio sensors really aren't sensors in the conventional sense. It is rather a very good system for attaching a headphone jack to the headset. This should especially please gamers who have wanted to move up to something with better stereo sound. The included Bluetooth remote has a joystick and should work well for anyone who is starting to get really involved in true 3D games.
Pros & Cons
Pros:
[su_list icon="icon: plus-circle" icon_color="#23a006″]
Almost completely open front dock cuts down on heat
One of the few designs that are actually rated to work with Windows Mobile
Certified and tested with over 100 iOS and Android app store VR apps
Offers an adjustable field of view that runs as high as 120°
[/su_list]
Cons:
[su_list icon="icon: minus-circle" icon_color="#a00e06″]
Doesn't work with the Samsung Galaxy Mega because of the size of that device
Can be worn over eyeglasses, but might bend the frames in the process
The docking mechanism might accidentally push the power button on some phones, turning off their screens
[/su_list]
Victony VR Headset: Design & Requirements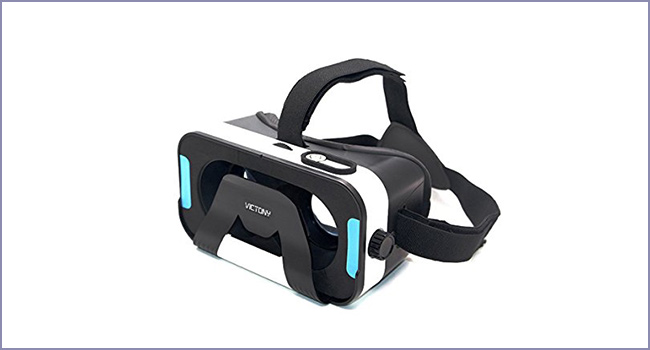 [su_button url="https://www.amazon.com/VICTONY-headset-virtual-Microsoft-4-5-6-0inches/dp/B01N657TH6/?tag=probestvr.com-20″ target="blank" style="flat" background="#f40616″ size="6″ center="yes" radius="0″ rel="nofollow"]Check Prices[/su_button]
Many VR devices are compatible with phones based on the size of the device more than the platform in question. Nonetheless, users will still have a hard time using Windows Mobile devices with these headsets. Victony explicitly states that they support Microsoft Windows phone in addition to Apple iOS and Google Android devices. Since Apple's support for third-party Bluetooth devices can be a bit lacking, gamers on iPhones might have to find their own controller. It seemed to work fine with Windows and Android phones though.
The physical design is relatively unique, with the front bay more open than even Homido's designs. While some phones might not fit properly in it, those that do won't have any problems when it comes to heat.
Victony VR Headset: Controls & Display
Each headset from Victony comes complete with 4K AHD lenses mounted on it. And, ironically, it beat those in more expensive models. This would ultimately offer one of the best displays in the industry. The only downside is the fact that the pupil control dials only rotate the lens array around 600° instead of the industry-standard 800°. This means some users with eye problems might not be able to see anything.
The additional Bluetooth remote provides the only other controls that the device has to offer. And it seemed to work very well when not using Apple phones with it. Hardcore gamers might want to sync a more powerful device with their phones. Luckily, those who are casually into gaming or only want to use their VR headsets to watch movies shouldn't have any issues with it.
Victony VR Headset: Setup
Since the headset doesn't come with a QR code, you'll have to locate and install VR apps individually. This shouldn't be too difficult for anyone accustomed to using a regular app store. But it would have been nice to receive some official support. It comes completely assembled, so there's nothing to do with the hardware itself besides snap in your phone and possibly an audio system in order to get going. The remote should sync using the standard Bluetooth protocols you're used to with other comparable devices.
Victony VR Headset: User Experience
Some users have a problem with their phone's power button getting too close to the mechanism that shuts the dock, and one user on Amazon felt this was a major issue. Another user, however, liked the fact that the headset fits comfortably though he did say he wished he could tell when the remote was switched off. A third user remarked that he was glad that he could use the Victony headset without having to put his iPhone in the virtual box, which is a problem with many other units.
Bottom Line
As we suspected, the Victony headset is a great choice if you're moving up from a low-end device and wanted to move to the next level. It has its issues. And it isn't going to do what an expensive premium unit will. However, it's perfect for those who are starting to discover the world of 3D VR gaming. You may wish to actually measure your phone before buying one, though. We say this because it does seem to be rather particular about the size of the mobile device you use it with.
If you have any experience with this VR device, then we'd love to hear from you. Stay tuned for more pro VR reviews while you're at it!