*This post may contain affiliate links. As an Amazon Associate we earn from qualifying purchases.
While the VR Park V3 headset is based on Google Cardboard technology, it's a major upgrade from stock Cardboard equipment without any loss of compatibility with the apps you already love. It doesn't look anything like an official Cardboard unit. Some industry analysts referred to the sturdy plastic construction as plastiboard, and the unit has excellent face padding compared to original Cardboard headsets. Users of the original VR Park goggles have reportedly been rather disappointed that VR Park changed little when releasing this new version. These mixed reviews encouraged us to take a closer look at this unique 3D HD VR helmet.
VR Park V3 Headset: Specs
VR Park V3 Headset Specs
Headset Type
Google Cardboard-derived 3D VR Headset
Resolution
720p officially, though there are reports that a 1080p res. works without pixel errors
Field of View
100°
Sensors
None
Controls
Bluetooth remote control, headset optical controls
Platform
Google Play
Amazon Rating (out of 5)
3.5
Our Rating (out of 5)
3.2
The V3 boasts a special type of locking mechanism that won't let your phone fall while you're using it. Some users complain that it's hard to use, but it's actually quite easier than using a genuine Google Cardboard viewer. The front door positioned on the obverse side of the unit hides an inner bracket that grasps your phone while in use. A second indoor door secures your phone after you click it in place. There's plenty of foam inside to keep scratches off your phone screen. You don't often see that kind of padding in budget VR goggles.
Park's engineers hid the optical control dial underneath the head strap, but you can also find an alternate control on the top. The two dials allow you to change the focus depth much more than you could on most other Cardboard clone units.
Check availability and price for the V3 VR headset.
Pros & Cons
[su_list icon="icon: plus-circle" icon_color="#23a006″]
Pros
Features one of the best aesthetic designs
Boasts upgraded face padding, front decals, and head straps
Standard pupil distance adjustment system
Comes complete with a Bluetooth remote control
[/su_list]
Cons
[su_list icon="icon: minus-circle" icon_color="#a00e06″]
Not much of an upgrade compared to the first VR Park headset
Most VR Park packages come with next to no documentation
Lacks official approval from Google, though it does claim to be compatible with many different phones
Some users find that the holding bracket mechanism is difficult to use
[/su_list]
VR Park V3 Headset: Design & Requirements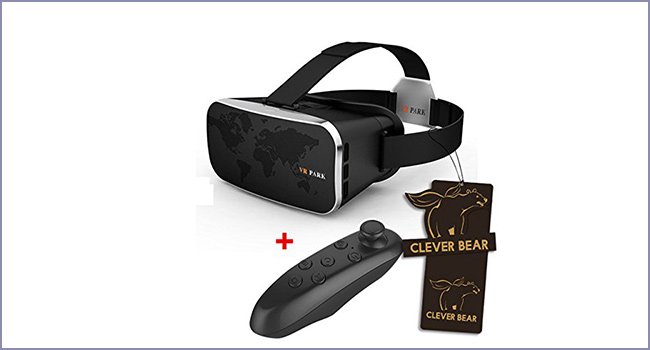 [su_button url="https://www.amazon.com/CLEVER-BEAR-Wireless-Bluetooth-Controller/dp/B01G9W6JIO/?tag=probestvr.com-20″ target="blank" style="flat" background="#f40616″ size="6″ center="yes" radius="0″ rel="nofollow"]Check Prices[/su_button]
While the goggles lack any official certifications from any of the major software vendors, you won't have any compatibility problems if you use Google Carboard apps. They designed this headset to the same open specifications Google builds official Cardboard viewers from, which means there's functionally no difference.
It should even support most iOS devices after you flick a switch on the included Bluetooth controller. You won't have to take your phone out if you want to adjust the volume or pause a movie. The controller even works with regular apps that don't require VR mode, which is great if you've ever gotten an important text while streaming an IMAX film.
VR Park V3 Headset: Controls & Display
You'll probably use the included Bluetooth controller quite often. It features a mushroom navigation stick, volume controls, and navigation buttons. The navigation controls and analog stick also work great if you're playing VR games. Unlike other Cardboard clones, the VR Park V3 offers you the ability to control gaming environments. The two lens adjustments work in concert with one another. You won't have to set them independently since they adjust the same mechanism. This means you won't lose focus because of whatever settings you pick.
There should also be noted that while it has a 720-pixel resolution officially many users report that it works without any pixel errors at the higher resolution of 1080 pixels. So, when streaming or watching 360° clips or high-res movies on your smartphone, you should not have any problems watching them.
VR Park V3 Headset: Setup
Setting up the VR Park V3 is extremely easy because it's based on existing Google Cardboard technology. If you have the Cardboard app installed, then you merely need to run it and watch a pair of dancing masks. Adjust the focus dials while watching the masks and you should soon have your new virtual reality gear in focus. Users who need the Bluetooth controller should simply set their phone to discover a new device and they won't have any problems attaching it.
VR Park V3 Headset: User Experience
All the various VR Park goggles are essentially the same, which is where most negative reviews of the equipment come from. Users of existing goggles feel cheated if they upgrade. The goggles themselves, however, work very well and do everything they're promised to do.
Of course, because it is a mid-range VR headset, it doesn't have lots of reviews. But users who have either bought or tested it are overall satisfied with the product. Thus far, users state that the lenses are, actually, surprisingly well-made for something that can sell for such a low price. And this really improves the quality of the image. You won't see the ghost patterns you sometimes do with cheaper designs.
Bottom Line
The VR Park V3 is an affordable headset that's a step forward from most of the other Google Cardboard clones on the market. It comes with both a Bluetooth controller and lens controls to help you get the most out of it. If you own any of the existing VR Park models, then you won't get any benefit from an upgrade. The unit isn't really all that much different from earlier models.
New users will find it a breath of fresh air in an otherwise crowded budget market. Feel free to share your experience with us if you've ever used the VR Park V3, and don't forget to sign up for our newsletter to read more Pro Best VR reviews.