*This post may contain affiliate links. As an Amazon Associate we earn from qualifying purchases.
Virtual reality is a technology that has recently begun to make its way into the homes of the average person. This out-of-the-world experience is heightened with the DESTEK V2 VR headset. This headset is one of a kind, and it stands out from the crowd with its specs and exciting features: Bluetooth remote controller, gamepad for 3D movies and games, lenses with high-light transmission, and more. In this DESTEK V2 VR headset review, we will take a closer look at the specs and main features of this VR device.
DESTEK V2 VR Headset: Specs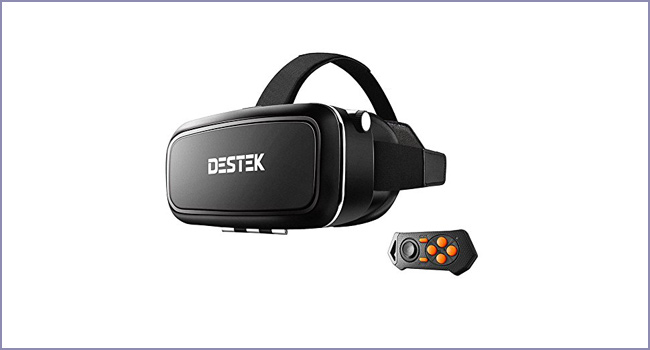 In this section, you will find all of the specs and details about this headset and what makes it so interesting.
| | |
| --- | --- |
| Headset Type | Virtual Reality |
| Resolution | 1920 x 1080 |
| Field of View | 83° |
| Sensors | Light transmission sensors |
| Controls | Wireless Bluetooth remote control |
| Platform | Android |
| Amazon Rating | 3.6 out of 5 stars |
| Our Rating | 4 out of 5 stars |
The resolution on this virtual reality headset is incredible. You will get the best image for your games and 3D movies. The field of view is also high, allowing you to view the picture clearly, without image noise.
With incredible sensors to boost the picture and the easy-to-use wireless remote, you can enjoy the games and movies without having to take off the headset to pause, play, fast forward, or rewind the picture.
The DESTEK headset is compatible with many different Android smartphones (Samsung S5, S6, S6 edge, S7,S7 edge, iPhone 5/SE/6/6s/7/7 plus, and more) meaning you can use your own to enjoy the best in games and movies. The Amazon rating is a 3.6 out of 5 stars, but we have found that this virtual reality headset deserves a 4 out of 5-star rating.
Pros & Cons
In this part of our DESTEK V2 VR headset review, you will find both the positives and negatives about this virtual reality headset. You can use this information to decide whether or not this product is for you.
Pros
[su_list icon="icon: plus-circle" icon_color="#23a006″]
The headset has padding around the eyes to keep your face from hurting while wearing the device.
Headbands are adjustable for many different sizes.
The headset is made from a good quality material.
Most smartphones will fit inside the headset, making it easy for the average person to use.
[/su_list]
Cons
[su_list icon="icon: minus-circle" icon_color="#a00e06″]
The retainer clip is set in an awkward place that might cause problems with certain smartphones.
You can not use many cell phone cases with this headset either. You must remove the phone from its case.
Does not work with iOS devices in the simple V2 kit.
[/su_list]
DESTEK V2 VR Headset: Design & Requirements
The design of this virtual reality headset is unique. The combination of three different colors on the face of the headset provides a modern look. The face sports a chrome logo directly in the middle surrounded by a matte black color and shiny black colors throughout.
The requirements for the DESTEK V2 VR headset are simple. All you need is a device that fits within the screen and lens section, a smartphone or other electronic device. This device should be able to download and work well with a wide range of apps for virtual reality games or movies. Typical smartphones will have all the capabilities needed, and most smartphones fit into the headset.
[amazon box="B074SF9TMW"]
DESTEK V2 VR Headset: Controls & Display
You can control the headset mostly from your smartphone or device. However, this headset also comes with a wireless, Bluetooth remote control. The remote allows you to control your device without removing it from the headset.
The display has an 83-degree field of view, meaning you can look left and right and completely immerse yourself into the virtual reality world. The resolution is high as well, which matches well with your chosen device. Another deciding factor of the display of this headset is the display in which your smartphone or device works. Without a high display on your smartphone, you won't have a high display on your headset.
[amazon box="B00S6EIIPQ"]
DESTEK V2 VR Headset: Setup
Usually, when you purchase a virtual reality headset, the setup can be a pain. It might take you hours just to download the software, and that's not including the time it takes to learn how to use it. The Destek virtual reality headset is very easy to set up, which means you can get right to the fun stuff.
When you are ready to set up your new virtual reality headset, you might find it more simple than you originally thought. Initially, all you have to do is download a virtual reality app or other software onto your device, place your smartphone or another device in the headset, press play, and start your experience.
DESTEK V2 VR Headset: User Experience
Overall, users were impressed with this headset. It is cheaper than other models, but it still allows you to have an incredible virtual reality experience. Many people were impressed with the variety of smartphones and devices that can be used with this headset as well.
Other users and customers were excited about the ease with which you can use this virtual reality headset. It doesn't require extensive software or the knowledge of how to install this software. All you need is a smartphone or device, the necessary apps, and the headset to get the best virtual reality experience right in your own home. The simplicity of the device has been one of the deciding factors for many users.
Bottom Line
The bottom line is simple. This headset is a high-quality product that allows you to get all the virtual reality experience you want right in your own home. It doesn't require expensive software or hook ups; you can use your smartphone to play your favorite movies or games. If you are still on the fence, you can check out customer reviews and other information about the DESTEK Headset, but you won't regret giving this headset a shot.
You might also like: 10 Best 3D VR Headsets